Simple Doily Angel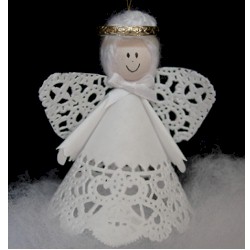 If you're looking for cool Christmas gift ideas, then you'll love this cute and easy-to-make Doily Angel. Make a bunch of them and decorate your tree or table!
Supplies
Aleene's Original Tacky Glue in the Gold Bottle
Paper doily (I used 4″ doily)
Scissors
Toothpick
1/2″ wooden bead
Acrylic paint – flesh tone
Paint brush
Yarn – white
Yarn needle
Gold novelty ring (from wedding department at your favorite craft store)
Black permanent marking pen – ultra fine tip
Instructions
Cut one doily in half.
Apply glue along edge of one half of doily (wrong side).
Overlap to create angel's dress. Press along glue line for a few moments until glue sticks.
To create arms, cut edge from other half of doily. Cut center in half. Apply glue along one edge and fold to create arms.
To create wings, cut another doily in half. Cut two wings using doily pattern as guide for cutting line.
Apply paint to wooden bead. Let dry.
Thread yarn onto needle. Pass needle through bead center leaving approximately 5″ tail. Loop needle around and around through bead center until approximately 1/2 of bead is covered with yarn. Cut off end of yarn (keeping original 5″ tail intact.)
Apply glue on top of head around 5″ yarn tail.
Twist yarn around top and into glue to create hair bun. Trim off excess yarn and glue end in place under hair bun.
Dip end of toothpick into glue and insert into neck end of bead. Insert toothpick into top of dress. Apply glue inside dress to hold toothpick in place.
To attach halo, slightly split ring and insert one side of ring into one loop of yarn on back of head. Close ring and apply glue at split then slide ring around and tuck the split under the yarn. Adjust ring on front of head.
Draw facial features with pen.
This craft is reprinted courtesy of Heidi Borchers for Inspired at Home and you can find a complete tutorial at FaveCrafts.
Contributor

Heidi Borchers for inspiredathome.com
Heidi Borchers hails from the first family of crafting. As daughter of Aleene Jackson, inventor of Aleene's Tacky Glue, Heidi's creative design projects have delighted worldwide crafters for over 30 years. Heidi's specialty is eco-crafting and she is the author of hundreds of craft books. She is co-host of Inspired at Home Radio, a live weekly talk-radio show featuring ideas for living a creative life. www.inspiredathome.com