Glitter Snowflakes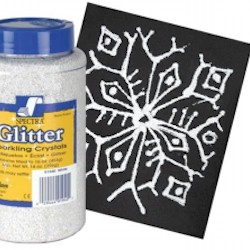 Simple crafts are sometimes the best for the busy holiday seasons. These Glitter Snowflakes are easy to make and the kids can make lots of them to add to the holiday decorations.
Supplies
Glitter
White School Glue
Heavy Paper or Cardstock
Newspapers
Instructions
Put down newspaper to catch any stray glitter to make clean up easy. 
Draw snowflake design on paper with school glue.
Sprinkle with glitter. After the first application dries you can always draw more and make it look 3-D.
This project is reprinted courtesy of United Art & Education suppliers of art supplies for students.
Contributor

United Art & Education
United Art & Education offers over 150 Free Project ideas for the art classroom or at home.  Discover a unique selection of products that make learning creative and fun! Choose from teaching resources and decorations, early learning items, and a range of art materials for art educators and students, plus some great gifts.