Craft Stick Santa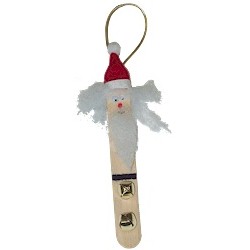 Terri P from MakingFriends.com created this santa craft stick ornament to hang on the tree.
Supplies
Craft Sticks
Jingle Bells
Mini Santa Hat
Cord
Wiggle Eyes
Mini Low Temp. Glue Gun
Cotton Ball
Marker
Instructions
Slide the mini santa hat onto the top of the craft stick.
Under the mini santa hat glue two wiggle eyes and draw a nose and mouth.
Take pieces of a cotton ball and glue it aroud the hat and under the mouth for the beard.
Toward the end of the craft stick draw a line with a marker.
Glue two jingle bells under the line.
Finish by taking a piece of cord and making a loop. Glue the loop onto the back of the craft stick.
This craft is reprinted courtesy of MakingFriends.com where you can purchase many of the components for this craft.
Contributor

Terri Bose of MakingFriends.com
Terri is the creator of makingfriends.com, freekidscrafts.com, scoutswaps.com and badginabag.com. Her work is republished all over the internet and is considered the queen of kids crafts.