Make A Shofar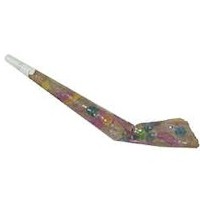 A shofar is a wind instrument made from an animal horn and is sounded traditionally at Jewish religious services on the high holidays.
Supplies
New Year's Party Horn
Brown Craft Paper
White Glue
Rubber Stamps and Ink Pads or Paint and Brushes
Glitter
Scissors
Instructions
Decorate a large piece of brown kraft paper with stamped or painted designs. Let dry. Spread a thin layer of glue over the paper and sprinkle with glitter. Knock off extra. Let dry. Apply glue to the back of the brown paper after decorating, and then wrap it while still wet round the party horn.  Trim excess, bend the open end up a little as shown in photo above. Let dry.
This great project comes from Susan of Suffolk Association for Jewish Educational Services and is reprinted courtesy of Terri of MakingFriends.com.
Contributor

Terri Bose of MakingFriends.com
Terri is the creator of makingfriends.com, freekidscrafts.com, scoutswaps.com and badginabag.com. Her work is republished all over the internet and is considered the queen of kids crafts.