Scat Cat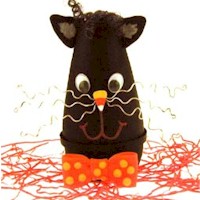 This cute little Scat Cat will scare away all the unwanted smells in your haunted house.
Supplies
Renuzit® LongLast® Adjustable Air Freshener*
Acrylic paint: Ebony Black, Tangelo Orange, Titanium White, Cadmium Yellow
Red dimensional fabric paint
Soft Polymer Clay: 1 pkg. each of Sunflower, Mandarin, Black, Dolphin Grey
24" length of 24 gauge Clear/Silver wire
Clay tool with rubber tapered point and cupped round point
Two 15 mm oval wiggle eyes
Woodsies®: 1 small Candy Corn (3/8" x 5/8")
Dowel: 4" length of 1" diameter (to roll clay flat)
Small amount of black & grey two-tone curly doll hair
Plastic knife
Glue gun & glue sticks
Craft glue
Paintbrushes
Needle-nose pliers
Fine sandpaper
Soft cloth
Heavy-weight plastic bag
Ruler
Oven
Instructions
HEAD & NECK: Sand the Renuzit® base and topper to roughen surface. Use soft cloth to remove any dust. Paint both pieces with two coats of Ebony Black. Let dry.
MOUTH: Place heavy-weight plastic bag over mouth pattern and trace with red dimensional paint. Set aside to dry.
EARS: Condition (soften by rolling) 1/4 of the block of black clay. Form two triangles
(1" high with a 1" base) from clay. Place a small amount of grey clay in the center, along the base of each ear. Use the pointed end of the clay tool to pull the clay out toward the edges of the ears. Referring to the photo, gently press the ears to the top of the Renuzit® to shape the ears before baking. Set ears aside.
BOW TIE: Condition the orange clay and use dowel to roll clay to a 1/4" thickness. Use the plastic knife to cut a 1" x 5" and a 1/2" x 2" piece from the clay. To form the bow, using the
1" x 5" piece, bring short edges up to meet at center and press seam together. Slightly pinch bow together at center and wrap 1/2" x 2" piece around center, meeting short ends together at back.
Roll six small !word-removed! of yellow clay. Cut !word-removed! in half with plastic knife and press onto bow tie. Gently press bow tie against base to form to base.
Bake bow tie and ears according to clay manufacturer's instructions.
NOSE: Referring to photo, paint candy corn Cadmium Yellow on wide end, Tangelo Orange on center and Titanium White on tip. Set aside to dry.
WHISKERS: Cut three 8" lengths of wire. Use needle-nose pliers to turn a small loop on each end. Bend wires back and forth to shape whiskers.
ASSEMBLE: Remove mouth from plastic bag. Referring to photo, and using craft glue, glue mouth and eyes to face, and hair to top of Renuzit®. Use a glue gun to glue center of whiskers to back of candy corn and then to front of face. Glue ears and bow tie in place.
This craft is reprinted courtesy of Dial Company, makers of Renuzit.
Contributor

Renuzit