Egg Carton Igloo and Polar Bear Pal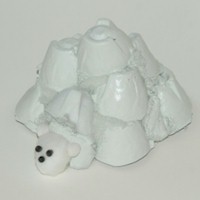 Our latest contest winner is Rodney and Jennifer from Milford, Indiana. This adorable Polar Bear peeks out of its igloo made from recycled egg cartons.
Supplies
1 egg carton, empty
1 cotton ball
3 small black pom-poms
2 medium white pom-poms
Hot glue gun
Scissors
White spray paint
Instructions
Assembly Instructions for Igloo
Take the egg carton and cut between each cup.
Glue six of the cups together in a circle pattern, five on the outside with one in the middle. 
Leaving an opening to add one more cup later.
Take one egg carton cup and cut an upside down "U" shape doorway out of the egg cup.
Glue the doorway egg cup in place to complete the bottom circle.
Next continue gluing the igloo together by placing three more egg carton cups on top of the bottom six cups.
Then place the final one egg carton cup on top to complete the igloo shape.
Spray paint the igloo white.  Let dry.
Assembly Instructions for Polar Bear Pal
Take the cotton ball and glue three small black pom-poms to the cotton ball make a face, two eyes and a nose.
Then glue two medium white pom-poms to the cotton ball for ears.
To complete the Igloo with Polar Bear Pal glue the polar bear pal in the doorway of the igloo.
Contributor

FreeKidsCrafts Contest Winner
IT'S A WINNER! Take a look at what one of our talented viewers submitted to share with you. This craft was selected as one of this month's winners to received $50 in craft supplies. Click here to find out how you can enter your original creation for our judges consideration.