Egg Carton Bat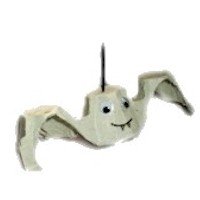 Show kids how to recycle those old egg cartons into these Halloween Bats. Egg cartons make great craft materials.
Supplies
Egg Cartons
Scissors
Elastic
Glue
Black Paint
Glow in the Dark Pens
Instructions
For this project you need 3 sections of a egg carton.
Start by cutting out the wings by cutting away a scallop edge.
Using a skewer or pair of scissors put a small hole into the head of the spider, thread your elastic through and tie a knot. This will enable your spider to bounce around!!
Glue on the eyes and your done.
For kids it would be easier to cut the cartons up and have them decorate the bat's. But it depends on your age group.
You can also paint these bats black, make a garland out of them or just dangle them from the cieling with some thumb tacks.
Use glow in the dark pens for the eyes for a night time spooky look.
This craft is reprinted courtesy of Craftbits.com.
Contributor

CraftBits
Our website was created by a mother and daughter team, adding a unique combination of crafting qualities and expertise of creativity. We started our website after numerous years in the area of craft, teaching, retail craft and owning a gift store. We decided to launch it to provide resources for teachers, therapists, and craft enthusiasts in the year 1999. Since then, the website has grown tremendously in terms of content and resource information.