Grandparent's Decoupage Frame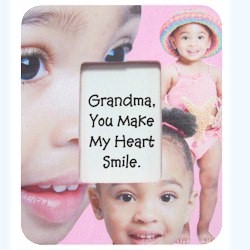 Use a favorite craft technique to make a frame the focal point of a treasured gift for Grandparent's Day.
Supplies
Frame with wide surface
  (use photo for reference)
Photos
Brush
Schssors
Modge Podge
Marker
Cardstock
Instructions
Take a series of pictures that can be combined in a collage (see photo for sample photos).
Trim photos carefully to sillouhette the main subject.
Using a foam brush, coat the frame with decoupage solution. While still wet, place photos that are not overlapping on the frame and apply another coat of solution. When dry, give another coat of solution and position any overlapping photos.  Make sure there are no air bubbles under the photos. While it is still wet, paint another coat of solution on top.
These frames are available on MakingFriends.com.
This project is reprinted courtesy of MakingFriends.com.
Glue cardstock to the back of the frame and write a special message to tell the Grandparents how great they are.
Contributor

Terri Bose of MakingFriends.com
Terri is the creator of makingfriends.com, freekidscrafts.com, scoutswaps.com and badginabag.com. Her work is republished all over the internet and is considered the queen of kids crafts.