Cat Pillow
Print This Craft
This Cat Pillow is one of our most popular projects so we wanted to bring it to your attention again. Congratulations to the Jessica Gondran Troop 1477 Girl Scouts of Central Texas for this great craft. The cat beds were made by the troop and donated to the animal shelter. They're a past contest winner and good deed ambassadors.
Supplies
Fleece material or throws
10 oz Batting
Thread
Sewing Machine
Scissors
Long (quilters) Pins
Measuring Tape
Other Helpful Equipment (Optional)
Scissor Sharpener
Compressed Air (to clean fleece out of sewing machine)
Felt Tip Marker
Instructions
Print and follow illustrations. Cut fleece fabric from 60" wide bolt into 23"x20" panels as shown in figure 1a. If using 50"x60" fleece throws, cut 25"x20" fleece panels, as shown in figure 1b. (Three inches of the fleece along each edge will be used for the fringes.) Cut the batting into 16"x14" pieces (19"x14" if using 25"x20" fleece panels). It helps to draw a grid on the batting before cutting.
Center a piece of batting on a fleece panel, as shown in figure 2, top with a second fleece panel, smooth the fleece to match up the edges, the pin all three layers together in 5 different places (use one pin in the center and one pin at each of the four corners of the batting, as shown in figure 3.)
Sew the bedding together with a larger "X", sewing from one corner of the batting diagonally to the opposite corner, as shown in figure 4. Remember to remove the pins - do not sew over them.
Cut out squares (about 3"x3") from each corner where the batting is not present, as shown in figure 5, then fringe 1" wide strips along all four edges, using your finger or thumb as a guide, as shown in the photos. Cut each fringe almost to the edge of the batting. Tie the front fleece panel to the back fleece panel at each fringe pair using square knots. Do this for each pair of fringes along all four sides of the pet bed.
Patterns, Templates and Printables
Click on a pattern to open it in a new window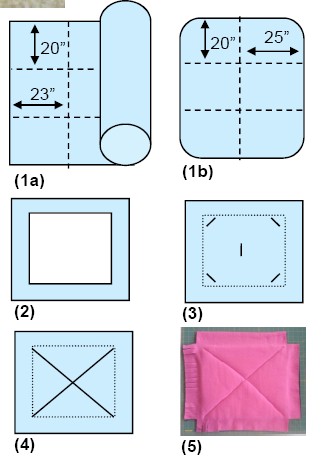 Other Images
Click on an image to open it in a new window
Contributor

FreeKidsCrafts Contest Winner
IT'S A WINNER! Take a look at what one of our talented viewers submitted to share with you. This craft was selected as one of this month's winners to received $50 in craft supplies. Click here to find out how you can enter your original creation for our judges consideration.