Cat Pillow Craft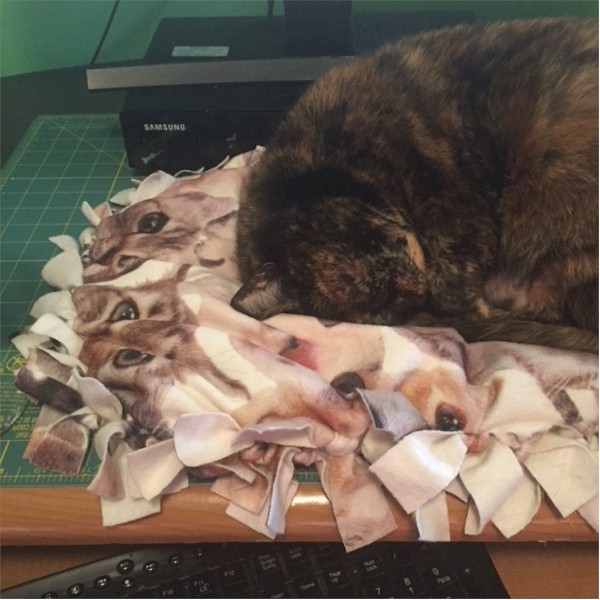 The Jessica Gondran Troop 1477 Girl Scouts of Central Texas originally brought this idea to our attention. The cat beds were made by the troop and donated to the animal shelter. Check with your shelter to see if this is something they would welcome or at least make one for your own pet. You will make them purr-fectly happy.
Trivia
It has recently been speculated that signs of the earliest domesticated cats have been found in China. The remains date back to about 6,000 years ago. Source: arsTechnica – Earliest evidence of cat domestication found in China
Supplies
Fleece material or throws
10 oz Batting
Thread
Scissors
Long (quilters) Pins
Measuring Tape
Other Helpful Equipment (Optional)
Scissors Sharpener
Compressed Air (to clean fleece out of sewing machine)
Felt Tip Marker
"We are a participant in the Amazon Services LLC Associates Program, an affiliate advertising program designed to provide a means for us to earn fees by linking to Amazon.com and affiliated sites."
Instructions
Print and follow illustrations. Cut fleece fabric from 60″ wide bolt into 23″x 20″ panels as shown in figure 1a. If using 50″x 60″ fleece throws, cut 25″x 20″ fleece panels, as shown in figure 1b. (Three inches of the fleece along each edge will be used for the fringes.) Cut the batting into 16″x 14″ pieces (19″x 14″ if using 25″x 20″ fleece panels). It helps to draw a grid on the batting before cutting.
Center a piece of batting on a fleece panel, as shown in figure 2, top with a second fleece panel, smooth the fleece to match up the edges, the pin all three layers together in 5 different places (use one pin in the center and one pin at each of the four corners of the batting, as shown in figure 3.)
Sew the bedding together with a larger "X", sewing from one corner of the batting diagonally to the opposite corner, as shown in figure 4. Remember to remove the pins – do not sew over them. 
 Cut out squares (about 3″x 3″) from each corner where the batting is not present, as shown in figure 5, then fringe 1″ wide strips along all four edges, using your finger or thumb as a guide, as shown in the photos. Cut each fringe almost to the edge of the batting. Tie the front fleece panel to the back fleece panel at each fringe pair using square knots. Do this for each pair of fringes along all 4 sides of the pet bed.

Supplies
Instructions
Contributor

Sudbudz
Want to have some creative family time? Print out our SudBudz® Masks and get crafty with the kiddos! More than just a typical Fizzy Bath Ball, SudPrize® is a first ever line of skin-loving and natural bath products that make bath time Fun for Kids and Easy for Moms. A Free companion App, SudBudz® engages your children into an immersive world of special and unique characters called SudBudz®.