Recycled Overalls Bag
Give those children's overalls a second life and recycle them into a cool Recycled Overalls Bag. Start a new trend! Or make and donate them to organizations that will make sure they get to young people who will appreciate them. Check out the organizations outlined in DIY to Donate for suggestions.
Trivia:
An average American throws away approximately 80 pounds of used clothing per person per year. Source: The Balance – Textile and Garment Recycling Facts and Figures
Supplies
Child's overalls
Sewing Machine
Scissors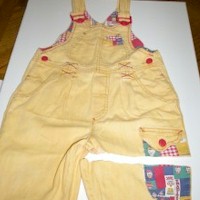 Instructions
For this project you will need a pair of old children's overalls from a thrift store or your younger bother or sister. The larger the overalls the bigger your bag will be.
If your overalls has any pockets on the front it will make a great little mobile phone pocket on the outside of your bag.
Start by cutting the leg's off, making sure to cut above the crutch or you will end up with a tuft.
Turn the bag inside out and using an surger or a sewing machine sew across the bottom to close it up. Make sure you do 2 zig zag stitches on a sewing machine to strengthen it.
Trim off any threads and turn the right way out.

Supplies
Instructions
Contributor

Sudbudz
Want to have some creative family time? Print out our SudBudz® Masks and get crafty with the kiddos! More than just a typical Fizzy Bath Ball, SudPrize® is a first ever line of skin-loving and natural bath products that make bath time Fun for Kids and Easy for Moms. A Free companion App, SudBudz® engages your children into an immersive world of special and unique characters called SudBudz®.