Eyeball Yo Yo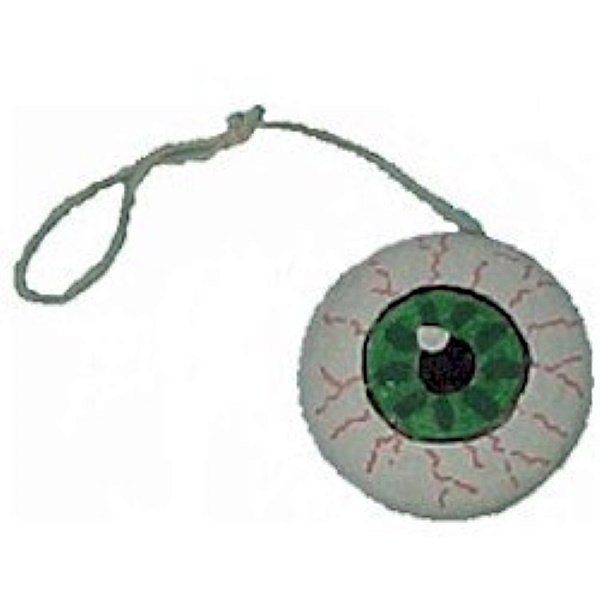 Yucky… but funny! Start a Yoyo eyeball spinning for lots of Halloween fun. It's a simple adaptation of a familiar toy that will make the kids giggle as they prepare for Halloween night.
Trivia:
People love carving pumpkins at Halloween, but few know the jack-o-lantern's dark history. According to Celtic lore, a miserly old man used to play tricks on the devil and was thus denied entrance to both heaven and hell. Instead, the old man was condemned to wander the Earth and used his lantern to lead people astray from their paths. Source: Fascinate.com – 45 Strange Facets About Halloween.
Supplies
Wooden Yo-Yo
White, Green, Dark Green and Black Paint and Brush
Fine Point Red and Black Marker
Instructions
Paint a 1″ green circle in the middle of the yo-yo.
Paint white all around the green. Let dry.
Paint a black pupil in the middle with radiating dark green lines.
Draw a line around the pupil with a black marker.
Draw irregular red lines to make eyeball look bloodshot.
This craft is reprinted courtesy of Terri Bose of Making Friends.com.

Supplies
Instructions
Contributor

Sudbudz
Want to have some creative family time? Print out our SudBudz® Masks and get crafty with the kiddos! More than just a typical Fizzy Bath Ball, SudPrize® is a first ever line of skin-loving and natural bath products that make bath time Fun for Kids and Easy for Moms. A Free companion App, SudBudz® engages your children into an immersive world of special and unique characters called SudBudz®.