Tissue Paper Earth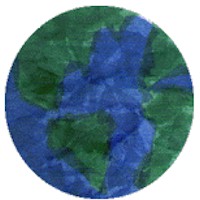 This craft reprinted courtesy of Terri of MakingFriends.com.
Don't throw away that blue and green tissue paper that you've used for gift bags, recycle it with this Earth Day project.
Supplies
Earth Pattern
Wax Paper
Blue & Green Tissue Paper
Liquid Starch
Instructions
Tear Blue and Green tissue paper into ½" pieces. Place a piece of wax paper over Earth Pattern. Brush lightly with starch. Arrange tissue pieces to make the Earth using the pattern as a guide. Brush lightly with starch. Add another layer of tissue pieces and finish with a final layer of starch. Let dry. Peel from wax paper. Trim circle. Hang or tape in window.
Patterns, Templates and Printables
Click on a pattern to open it in a new window
Contributor

Terri Bose of MakingFriends.com
Terri is the creator of makingfriends.com, freekidscrafts.com, scoutswaps.com and badginabag.com. Her work is republished all over the internet and is considered the queen of kids crafts.