Striped Headbands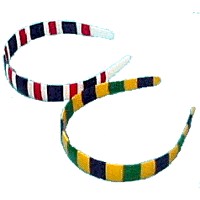 What could be easier than this. Inexpensive and easy enough for kids to make one to match each school outfit.
Supplies
Plastic Headbands
Vinyl Tape
Instructions
Cut pieces of vinyl tape to wrap around plastic headbands. That's it and they look great!
This craft is reprinted courtesy of Terri of MakingFriends.com.
Contributor

Terri Bose of MakingFriends.com
Terri is the creator of makingfriends.com, freekidscrafts.com, scoutswaps.com and badginabag.com. Her work is republished all over the internet and is considered the queen of kids crafts.