Playing Card Purse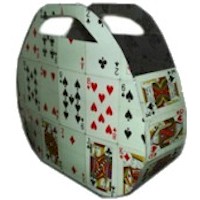 Recycle those old decks of cards and turn them into a fun and funky purse. It works for cards of all kinds.
Supplies
Old Cards
Duct Tape
Scissors
Instructions
All this purse consists of is rows of playing cards backed by a "duct tape sheet" (strips of duct tape) in dimensions of your desire. The purses  pictured started as sheets of 6 columns of cards in three rows, along with two side pieces of 4 cards, and a bottom size of your choice. After these sheets were prepared, and cut the two pieces for the front and back to whatever shape looked pleasing. The front/back pieces, along with the sides and bottom, were then attached and laminated to make the whole thing sturdier. The laminate was then trimmed, the purse folded, and taped inside with duct tape!
Pick your choice of cards-- the pictures here were made from standard playing cards and uno cards, but you can make it out of pretty much any fairly-sturdy, uniformed-size object.
Overlap strips of duct tape to make, in essence, a sticky sheet of duct tape. Do this 2 times for both of the sides, another for the bottom, and 2 more for the front and back.
Layout your cards on each "sheet" according to side size. For my pictured purses, I used a format of about 6 cards across by 4 rows. For the sides, I used 1 row of 4 cards, and for the bottom, about 1 1/2 cards in 3 rows.
Cut the 6x4 card sheet into your desired shape. For mine, I cut them into either a rounded square or a rounded square bottom with a more narrow. This part is really up to you.
Cut out shapes for the handles at the top of your newly cut 6x4 sheets.
Trim the tape around all the card sheets so that no tape is exposed.
Layout all of you pieces in mirror images card-side down and tape them enough that they will hold together while laminating. See picture for layout.
Take the pre-folded purse to Kinko\\'s or some similar place to be laminated, and therefore become more sturdy. This is generally fairly cheaply done. However if you want to skip this, you can make it sturdy on your own by covering it with clear packaging tape.
Trim all the laminate around the purse and fold to form purse shape.
Reinforce the sides with duct tape to hold it together.
This craft was designed by Hope King and is reprinted courtesy of Craftbits.com.
Contributor

CraftBits
Our website was created by a mother and daughter team, adding a unique combination of crafting qualities and expertise of creativity. We started our website after numerous years in the area of craft, teaching, retail craft and owning a gift store. We decided to launch it to provide resources for teachers, therapists, and craft enthusiasts in the year 1999. Since then, the website has grown tremendously in terms of content and resource information.