Make A Beaded Headband
Bead Crafts, Dress Up Crafts, Early Elementary Craft, Flower Crafts, Gifts to Make, More Girls Crafts, More School Crafts, parents, Retro Crafts, teachers, Teen Crafts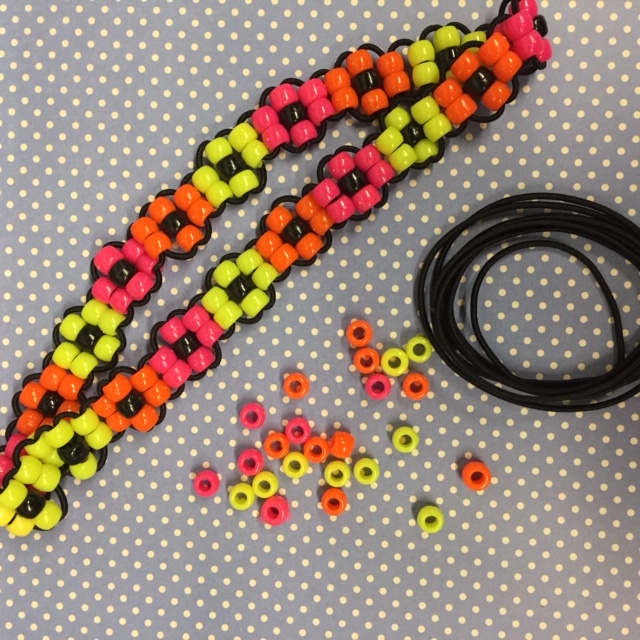 Make A Beaded Headband to match all your outfits as you head back to school. You'll look stylish and set a trend that all your friends will want to follow. It would also make a great gift for a special friend.
Trivia
As early as 5000 BC men and women alike valued wearing strands of shell, stone, teeth and bone beads. Faience and Carnelian beads found in an Egyptian tomb date back to 4000 BC. Source: KidzSearch – Bead Facts For Kids
Supplies
Pony Beads (actual amount will depend on size of head)
5 yards Black 1mm or 2mm Round Elastic (actual amount will depend on size of head)
White Glue
Supplies
Decide on your color scheme and then get started.
Stiffen ends of elastic with white glue. Let Dry.
Slide the first two yellow beads to the middle of elastic. Then string 1 yellow , 1 black, and 1 yellow on to one side of the elastic (this is for the example shown). Using the other side of the elastic, string through the last three beads in reverse order. Pull snug. Continue with the third row until you have enough to go around your head.
 Finish by forming headband into a circle and lacing back through the first beads. Tie off.
 Put a drop of white glue on the knot. Let dry and trim.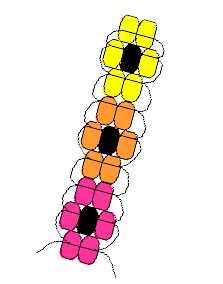 Supplies
Instructions
Contributor

Sudbudz
Want to have some creative family time? Print out our SudBudz® Masks and get crafty with the kiddos! More than just a typical Fizzy Bath Ball, SudPrize® is a first ever line of skin-loving and natural bath products that make bath time Fun for Kids and Easy for Moms. A Free companion App, SudBudz® engages your children into an immersive world of special and unique characters called SudBudz®.