Recycled Dad's Desk Organizer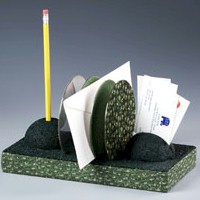 This Desk Caddy is a perfect gift for kids to make for Dad for Fathers Day or a birthday. It will be made with love and also be a very useful way to organize his desktop.
Supplies
STYROFOAM™ Brand Foam:
  Ball, 3"
  Block, 12" x 6" x 1"
Acrylic paint, color of choice
Recycled compact discs, three or four
Recycled marker cap
Coordinating print fabric "fat quarter" (from quilting department)
Serrated knife
Candle stub or paraffin
Pencil
Ruler
Paintbrushes: medium flat; stiff-bristled round
Disposable palette
Water basin
Paper towels
Scissors
Low-temp glue gun and glue sticks
Thick, white craft glue
Instructions
Note: Adults only should handle the serrated knife.)

Wax serrated knife with candle stub or paraffin; cut foam ball in half. Use knife to cut 9" x 5" x 1" base from foam block.

Use pencil to poke hole into center top of one half-ball. Glue and press marker cap into hole to create pen holder. Glue holder to one end of foam base.
 
For card holder, carefully cut slit across center top of remaining half-ball; do not cut completely through foam. Glue holder to opposite end of base as shown; slit should be parallel to front of organizer. Note: Card holder works for photos, too.

To make inserting discs easier, first cut 3/8"-deep, equally-spaced parallel grooves into top of foam base between half-ball holders. Cut straight down, not at an angle.

Use stiff brush to scrub paint onto top of foam base; let dry. Cut two 1-1/2" x 15" strips from fabric. Glue fabric strips around edge of base, overlapping as needed. Clip corners and fold excess fabric to bottom; glue to secure.

Cut three or four 5-1/2" squares from fabric. For each CD, spread thin layer of white glue over label side and smooth a fabric square over glue; let dry and trim excess.

Apply thin line of white glue along each CD slit cut in Step 4 and press discs 1/2" to 3/4" deep into slit.

Insert pen and photo into holders.
This craft reprinted courtesy of Dow maker of Styrofoam Brand products.
Contributor

Styrofoam Brand Products
STYROFOAM™ brand from Dow is one of the most trusted and widely known brand names in the craft industry. From Christmas ornaments to wedding topiaries, they have helped shape your crafting memories for 60 years. Today, their high-performance foams are helping you make tomorrow's memories.