Candy Wrapper Bookmarks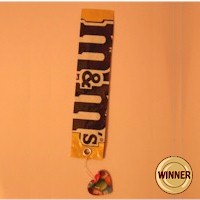 This craft was created by Noa Brandeis of Jerusalem, Isreal and she writes, "I love crafts very much! I also like cooking, all sorts of music, having fun with my friends and hiking, in my country and around the world that's also why I recycle, and these bookmarks are my little way of saving our planet." Let's join in and do our bit by recycling our candy wrappers too!
Supplies
Colorful candy/snack empty wrappers.
Bristol board
Glue
Scissors
Ruler
Eyelets (optional)
And any other touches you would like to add to your bookmark (bells, beads, ribbons, charms etc)
Instructions
Choose the size you would like to make your bookmark and cut it out of the Bristol board.

Cut out the same size out of the candy/snack rapper, if you would like you can cat the shape twice out of the rapper and make a double sided bookmark.

With the glue stick the rapper on the Bristol board and wait until it's dry.

Now comes the creative part: you can attach an eyelet at the bottom of the bookmark and than tie a ribbon through the eyelet or hang a charm or some beads, follow your imagination!!
Contributor

FreeKidsCrafts Contest Winner
IT'S A WINNER! Take a look at what one of our talented viewers submitted to share with you. This craft was selected as one of this month's winners to received $50 in craft supplies. Click here to find out how you can enter your original creation for our judges consideration.