Upcycled Decorative Envelopes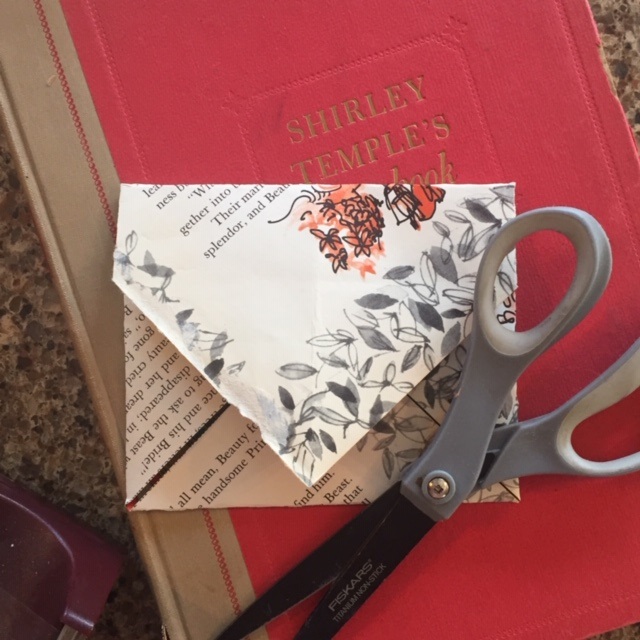 Turning old books into upcycled decorative envelopes is easier than you think. If you follow these step by step directions, you can turn any letter size page into upcycled envelopes that everyone will love to see in their mailbox. With today's hurry up, instant messaging and communication it is nice to take a step back and enjoy the results of this great recycling craft project.
Trivia:
Did you know Americans use 85,000,000 tons of paper a year; about 680 pounds per person? Source: University of Indiana – Paper Recycling Facts
Supplies
Old Books or letter size paper to be recycled
Scissors
Tape
Instructions
Find an old book or magazine with colorful pages that are strong enough to go through the sorting machines at the post office. These pages are usually printed in color on heavier paper.
Cut the sheet into a square. Our square was an 8″ x 8″, but you can make it any size. Just remember the post office may charge more if your size is greater than their standards. Save the small piece for another project. Possibly a bookmark.
Using the picture below as a reference, fold from one corner to another to form a triangle and crease. Then open and fold to the opposite corner and crease. Open your page and continue.
Decide which side of the paper will be the outside of your envelope and place it face down. Then take one corner and fold it into the middle as demonstrated in the picture below.
Next take each of the corners to the right and left of this corner and do the same as illustrated below. Tape the three triangles together to form your envelope.
Now fold the last corner down to form the flap of the envelope. Notice that the fold for the flap is longer so the envelope can be securely closed. Now you have made your own unique decorative envelope with recycled paper that would otherwise end up in the landfill. Congratulations!

Supplies
Instructions
Contributor

Sudbudz
Want to have some creative family time? Print out our SudBudz® Masks and get crafty with the kiddos! More than just a typical Fizzy Bath Ball, SudPrize® is a first ever line of skin-loving and natural bath products that make bath time Fun for Kids and Easy for Moms. A Free companion App, SudBudz® engages your children into an immersive world of special and unique characters called SudBudz®.