Wood Trivet Craft
Camp Crafts, Decoupage, Early Elementary Craft, Father's Day Crafts, Gifts to Make, More Boys Crafts, More School Crafts, Mother's Day Crafts, parents, teachers, Teen Crafts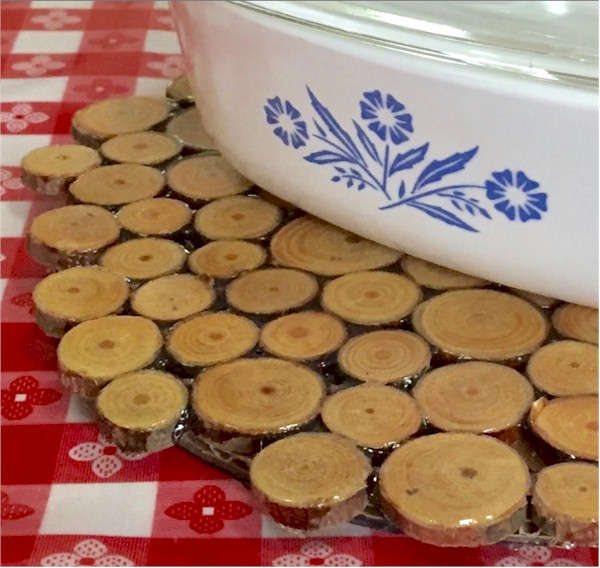 For those kids whose Dad loves to cook, this Wood Trivet is the perfect project for Father's Day that he will really appreciate. If dad's not a cook, you could make him a special coaster for his favorite cold drink. The kids will be bursting with pride every time this gift is put in use. It is perfect for summer picnics and any occasion for friends and family.
Trivia:
Sonora Smart Dodd lead the movement for fathers to have their own day and on the first Father's Day delivered gifts to sick fathers in Spokane, Washington. Source: The Pioneer Woman – 15 Dad Facts for Father's Day
Supplies
Bowl or plate approx 8″ diameter
Wood disks (available at Amazon)
Cardboard
Mod Podge Dimensional Magic
Wax Paper
Foam Brush
Straight Pin
Foam or Felt 9″ x 9″
Scissors
Instructions
Trace around a bowl or plate on a piece of corrugated cardboard. We used a 9″ bowl and didn't have quite enough wood disks to finish. An 8″ trivet could probably be completed with 1 pack of disks but since they are natural, sizes of the disks will vary.
Starting from the middle, begin gluing (hot glue, tacky glue or wood glue) the wood disks to the cardboard. Fit the pieces as close together as possible. We chose to let final pieces hang off the edge.
To create a shiny, wipe-clean finish use Mod Podge Dimensional Magic. And this stuff is magic. It gives a resin-like coating to your projects but is very kid-friendly. The tube is easy to squeeze, there's no smell, it cleans up with water and dries clear in a few minutes. Place your finished project on a piece of wax paper. Lightly coat each disk with dimensional magic. Pop any bubbles with a pin. As it settles, some of the fluid will spill over the edges of the disks into spaces between. This will bond the disks permanently to the cardboard. Let dry. Some of the fluid may run off the edges and underneath the trivet. Just turn it over and let dry.
Using the same bowl or plate used to trace onto the cardboard, trace around onto a piece of foam or felt. Cut out and glue to the back.

Supplies
Instructions
Contributor

Sudbudz
Want to have some creative family time? Print out our SudBudz® Masks and get crafty with the kiddos! More than just a typical Fizzy Bath Ball, SudPrize® is a first ever line of skin-loving and natural bath products that make bath time Fun for Kids and Easy for Moms. A Free companion App, SudBudz® engages your children into an immersive world of special and unique characters called SudBudz®.