Paper Loop Snake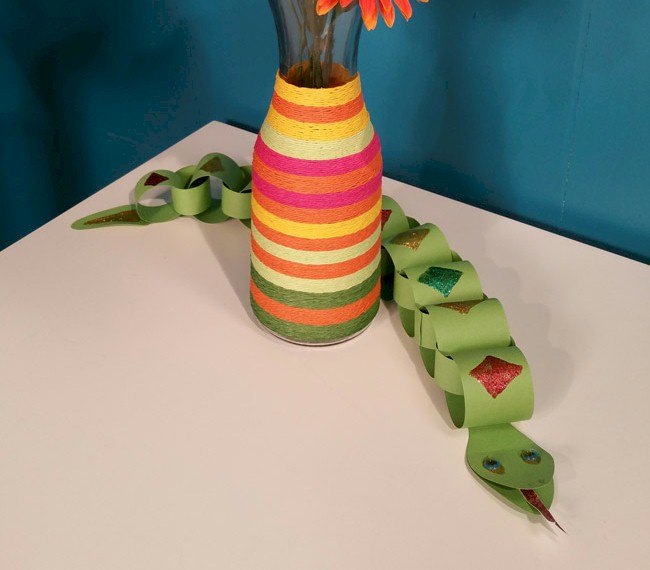 Snakes come in all colors and sizes but we like the ones in the craft world best. This Paper Loop Snake is easy to make and adds a bit of fun to your decorating scheme. The kids will love to select their special spot for their creation.
Supplies
Elmer's® Craft Bond Tacky Glue
Elmer's® Classic Glitter Glue Pack
Green Cardstock – (3) 12" square, scrap of white
Wiggle Eyes – (2) ½" turquoise
Scissors
Pencil
Ruler
Clothes pins
Instructions
Measure and cut the following strips from green cardstock: (4) 2" strips, (3) 1 ¾" strips, (1) 1 ½" strip, (8) 1" strips. Fold each strip in half then cut creating 6" long pieces. (If using other size paper, you need: 8-2"x6", 2-1½"x6" and 16-1"x6")
Cut patterns from pattern sheet then trace onto green cardstock, tracing and cutting number indicated on pattern.
Body – Tip: pass strip over edge of table to slightly curl paper. Roll each wide strip and one 1" into a ring, apply a thin bead of glue to one end then press other end in place overlapping about ¼". Hold with clothespins till dry. Use the 1" strips to join rings together in following order: (1) 1 ¾", (4) 2", (2) 1 ¾", 1 ½", 1". Glue with ¼" overlap and hold with clothespins till dry.
Tail – squeeze a triangle of Gold Glitter Glue into center of tail.
Head – Cut out eyes from pattern then use pencil to lightly trace onto one head shape. Fill in eyes with Gold Glitter then press in wiggly eyes. Add small Silver dots for nostrils. Cover entire tongue with Red Glitter. Let dry. Glue tongue plain head section. Apply glue to back of detailed head just behind eyes to neck. Press onto lower section and let dry. Bend back as shown when dry.
Detail rings with diamonds of Glitter Glue as shown. When dry glue on head and tail.
Patterns, Templates and Printables
Click on a pattern to open it in a new window to print
Contributor
HANDS ON Crafts for Kids
Remember what we all say at Hands On Crafts for Kids, "there's no right or wrong way to crafting…only our way!" We hope that you will join us for Hands On Crafts for Kids – Back to Basics.
Supplies
Instructions
Contributor

Sudbudz
Want to have some creative family time? Print out our SudBudz® Masks and get crafty with the kiddos! More than just a typical Fizzy Bath Ball, SudPrize® is a first ever line of skin-loving and natural bath products that make bath time Fun for Kids and Easy for Moms. A Free companion App, SudBudz® engages your children into an immersive world of special and unique characters called SudBudz®.
Tags snake crafts