Paper Bag Serape Craft
Cinco de Mayo crafts, Cut and Paste Crafts, Dress Up Crafts, Early Elementary Craft, librarians, More School Crafts, Paper Bag Crafts, parents, Party Crafts, PreSchool Crafts, South and Central American Crafts, teachers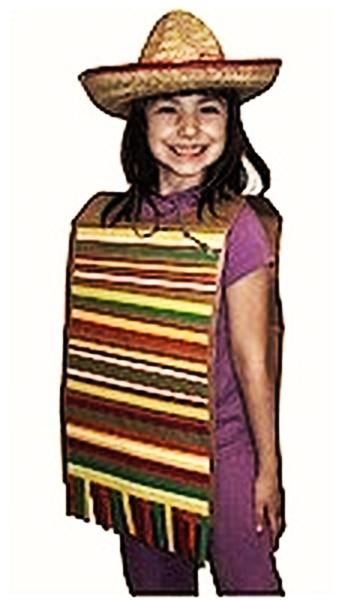 On May 5th we celebrate Cinco de Mayo. The FreeKidsCrafts Team designed this easy to make and inexpensive Paper Bag Serape so everyone can be dressed for the occasion. If you search Cinco you will find even more fun projects for the day.
Trivia:
Cinco de Mayo marks a historical battle between the Mexican army and the French. The Battle of Puebla took place on May 5, 1862. The Mexicans were largely outnumbered by the French. However, led by Mexican General Ignacio Zaragoza Seguin they managed to hold off and defeat the French. The day is mostly celebrated by people of Mexican heritage in the United States. It is also celebrated in some areas of Mexico, especially the state of Puebla. Source – Ducksters- Holidays for Kids: Cinco de Mayo
Supplies
Large Paper Grocery Bag
Scissors
Craft Glue
Colored Construction Paper
Instructions
Cut sides out of paper bag.
Cut circle big enough for head to fit through in the bottom of the bag.
Cut strips of bright construction paper the width of the remaining bag and glue horizontally over the front and back.
Cut small strips of construction paper and glue to the bottom for the fringe.
Enjoy your fiesta!

Supplies
Instructions
Contributor

Sudbudz
Want to have some creative family time? Print out our SudBudz® Masks and get crafty with the kiddos! More than just a typical Fizzy Bath Ball, SudPrize® is a first ever line of skin-loving and natural bath products that make bath time Fun for Kids and Easy for Moms. A Free companion App, SudBudz® engages your children into an immersive world of special and unique characters called SudBudz®.