Make Beaded Ornaments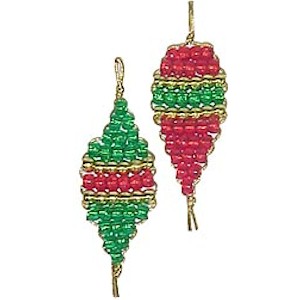 Supplies
Translucent Green and
Red Pony Beads
Metallic Gold Pony Beads
White Glue
40" Metallic Gold Cord
Instructions
Cut cord to 40". Stiffen ends with white glue. Let dry. Fold cord in half. Tie a small knot near the fold to make a small loop.
Click on printables for beading pattern.
Begin weaving with the top row. Slide all the beads for that row on one cord. Slide the other cord through the same beads in the opposite direction. Pull tight.
Continue until ornament is complete. Tie off.
Dab white glue on the knot. Let dry. Trim.
Contributor

Terri Bose of MakingFriends.com
Terri is the creator of makingfriends.com, freekidscrafts.com, scoutswaps.com and badginabag.com. Her work is republished all over the internet and is considered the queen of kids crafts.
Newsletter
Subscribe to our free newsletter to get creative crafts mailed to your inbox.