Make A Drum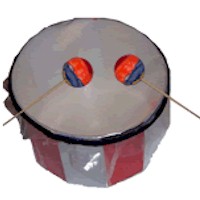 Whether you're part of the playtime band or part of the parade this drum is sure to make a hit. Decorate it in the colors of your flag for the holidays.
Supplies
Glue.
Coloured cardboard or paper
Contact Paper (Optional)
Round piece of cardboard
Thick piece of plastic
Rubber band
Two wooden skewers
Two Decofoam balls.
Instructions
Cut the colored cardboard or paper into equal size strips which are the container's height (see the side view photograph). These will be used later for the drum's decoration.

Decorate your drum by glueing the strips around the outside of your container and leave it to dry.

To strengthen and protect this surface, cover it with the sticky contact.

To make the bottom of the drum, place the container on top of the cardboard and trace around it and cut it out (if you wish, place contact on top of this cardboard piece).

Glue the bottom of the drum in place and leave to dry.

To make the playing surface, cut the thick piece of plastic to size, ensuring that you allow extra room so that it can be fastened with the rubber band.

The final step is to fasten this in place with the rubber band and you're done with the drum.

Now for something to play it with - the drum sticks!

Paint two Decofoam balls and leave to dry.

Pierce each ball with a wooden skewer and then to make it secure, glue them in place.
This craft is reprinted courtesy of ChildLearningSupport.com.
Contributor

Child Learning Support
Helen Thompson is a nursery nurse behind childlearningsupport.com. Her goal is to provide valuable information and activities for parents, teachers and carers, who often lack the time in the modern busy world to put these together for themselves.