Patriotic Spinner
Print This Craft
Kids can make this Patriotic Spinner craft into a great party decoration. Hang them outside and watch them spin! Terri also has other spinner patterns on her site.
Trivia:  Upon welcoming Vermont and Kentucky—states 14 and 15—into the union, a new version of the flag was created that had 15 stars and 15 stripes.
Supplies
Computer
Color Printer
White Index
Glue
Crepe Paper Streamers
String
Scissors
Hole Punch
Instructions
Cut out the circle on all 5 printed patterns. Each circle is divided into quarters by 3 dotted lines and one solid line. On four of the circles, cut on the solid line to the center of the circle.
Crease on the dotted lines, folding printed pattern to the inside. First one way, then the other way.
Form a pocket to catch the wind by folding as shown, overlapping one quarter of the circle onto the next quarter.
Glue overlap into place.Repeat for the three other slit circles.
Glue the four pockets together to create a half ball.
Cut streamers to 18". Glue ends around perimeter of the bottom. Glue the 5th circle to the bottom over the streamer ends.
Use punch to make 2 holes in the top of the ball about 1/2" from the edge. Feed string through. Tie ends.
Hang from tree and watch it spin.
Patterns, Templates and Printables
Click on a pattern to open it in a new window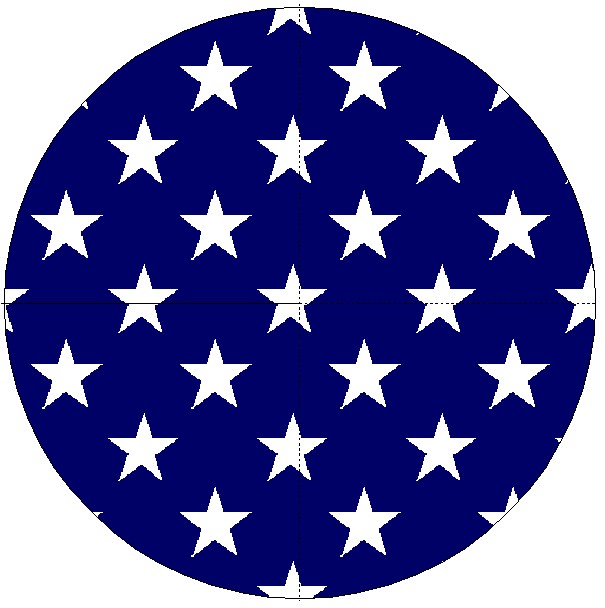 Contributor

Terri Bose of MakingFriends.com
Terri is the creator of makingfriends.com, freekidscrafts.com, scoutswaps.com and badginabag.com. Her work is republished all over the internet and is considered the queen of kids crafts.