Honeybee Pom Pom Craft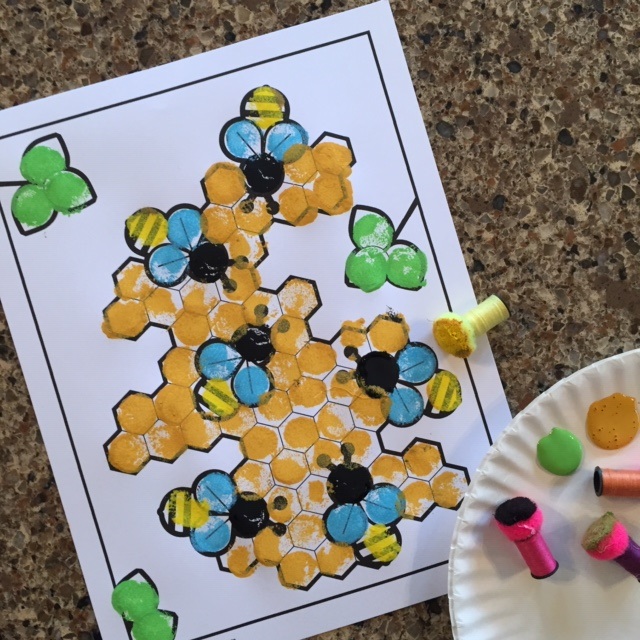 This Honeybee Pom Pom Craft is fun and also a great reminder of how important the honeybees are to all of us. We need the honeybee to pollinate the trees, flowers and plants for our food. Without them we would be in serious trouble, so see what you can do to make everybody aware.
Trivia:
Ninety percent of the 369,000 flowering plant species are dependent on insect pollination. Source: Earth Day Network – What You Need to Know About Bees and How You Can Help to Protect Them
Supplies
School Paint – Yellow, Blue, Green and Gold
Small Spools of Thread
Small Pom Poms
Newspaper
Paper Plates
Elmers Glue
Instructions
Spread your work surface with newspapers.
Glue the small pom poms onto the small spools of thread. Use the picture for a reference. Let dry. This makes your dabber.
Print out a Honey Bee picture for each child.
Put a little of each paint color on the paper plate.
Dip your dabber in one color and use it to dab the color on your picture. Use the picture as a reference. Use a different dabber for each color.
When your picture is complete, hang it on the refrigerator and tell your family how important honeybees are to all of us.
Patterns, Templates and Printables
Click on a pattern to open it in a new window to print

Supplies
Instructions
Contributor

Sudbudz
Want to have some creative family time? Print out our SudBudz® Masks and get crafty with the kiddos! More than just a typical Fizzy Bath Ball, SudPrize® is a first ever line of skin-loving and natural bath products that make bath time Fun for Kids and Easy for Moms. A Free companion App, SudBudz® engages your children into an immersive world of special and unique characters called SudBudz®.
Tags painting crafts