Loopy Yarn Sheep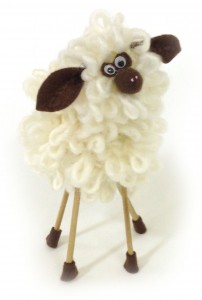 These Loopy Yarn Sheep will make a fun addition to the wide variety of sheep crafts that are perfect for Easter or Australia Day. Adult supervision is required to use the hot glue gun.
Supplies
FloraCraft® Foam Balls: 2", 1.5" and 1"
Looped Yarn – White
Felt – Brown
Wiggle Eyes
(4) Wood Dowels – 1/8" x 4.5"
Toothpicks
Small Pearl Head Pins
Fabric Paint – Pink
Low-Temp Glue Gun
Scissors
Instructions
Wrap the 2" and 1.5" balls with the looped yarn to completely cover. Secure the ends of the yarn in place with glue.
Glue a toothpick halfway into the 1.5" ball head. Glue the toothpick from the head into the body to secure the head in place.
To make it easier to insert the legs into the body, separate the yarn on the body to reveal the foam before inserting each leg. Insert the legs spaced about 1" apart.
Cut the 1" ball in half then form it into a small ball with your fingers. Cut about a 1.5" circle of felt. Place the ball in the center of the circle and gather the felt up around the ball. Glue the felt tightly in place and trim the excess edges off with the scissors. Glue the nose to the face of the sheep.
Cut two small brown circles of felt and glue them side by side just above the nose. Glue the wiggle eyes in place on the brown felt circles.
Cut two small ovals for the ears, fold one end over and pin in place on each side of the head. Cut small strips of felt to glue around the bottom of each leg for the hooves.
Paint two tiny pink dots on the end of the nose with a toothpick.
Contributor

FloraCraft
FloraCraft(r), locally owned and operated in Michigan, has beenserving the craft and floral industries for 65 continuous years, providing quality STYROFOAM(tm) Brand Foam in shapes and sheets.  We are dedicated to helping beginners and professionals achieve their best results, FloraCraft products are the foundation of every great project.