Australian Didgeridoo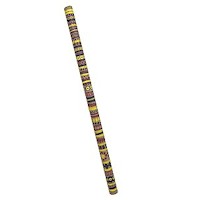 Aboriginal Australians made wind instruments from eucalyptus trees hollowed out by termites. Now kids will have fun making their own Australian Didgeridoo craft from a recycled cardboard tube.
Trivia: Studies of rock art in Northern Australia suggest that the Kakadu region ppeople of the Northern Territory have been using the didgeridoo for approximately 1,000 years, based on the dating of paintings on cave walls and shelters from this time.
Supplies
Empty Tube from Gift Wrap
Paint and Brush and Q-tips
Instructions
Using traditional symbols for inspiration, paint a long cardboard tube.
Blow through one end to make trumpet-like sounds.
We've provided a link for traditional symbols. Aboriginal symbols
This craft reprinted courtesy of Terri of MakingFriends.com.
Contributor

Terri Bose of MakingFriends.com
Terri is the creator of makingfriends.com, freekidscrafts.com, scoutswaps.com and badginabag.com. Her work is republished all over the internet and is considered the queen of kids crafts.
Tags australian crafts for kids to makeAustralian Kids Crafts