No Bake Groundhog Cake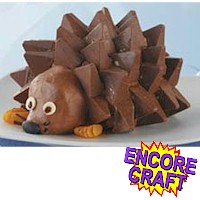 This project is used with permission of Kraft Foods.
Kraft calls this a Hedgehog Cake, but we've renamed it in honor of Groundhog Day. Have fun making this whimical dessert with your kids. Any excuse to have a party and make a cake everyone will love.
Supplies
1 pkg. (8 oz.) PHILADELPHIA Neufchatel Cheese, 1/3 Less Fat than Cream Cheese, softened
6 squares BAKER'S Semi-Sweet Baking Chocolate, melted
2 Tbsp. sugar
1-1/2 cups thawed COOL WHIP LITE Whipped Topping
18 CHIPS AHOY! Real Chocolate Chip Cookies, divided
2 bars (3.52 oz. each) TOBLERONE Swiss Milk Chocolate with Honey and Almond Nougat, broken into triangles
4 dried apricots
2 white chocolate chips
2 pieces shoestring licorice (2-1/2 inches each)
1 jelly bean
Instructions
BEAT cream cheese in large bowl with electric mixer on medium speed until creamy. Add melted chocolate and sugar; mix well. Gently stir in whipped topping. Remove 1 Tbsp. of the cream cheese mixture for later use; spread small amount of the remaining cream cheese mixture between each of 16 of the cookies to form two logs of 8 cookies each.

PLACE logs, side-by-side, on serving platter for the "hedgehog's body." Add remaining 2 cookies to one end for the "face" as shown in photo. Spread face and body with remaining cream cheese mixture until completely covered.

CUT each apricot to resemble a foot with claws; attach to the body with the reserved cream cheese mixture. Press chocolate triangles into the "body" to resemble quills. Decorate with white chocolate chips for the "eyes," jelly bean for the "nose" and licorice for the "whiskers." Store in refrigerator.
Kraft Kitchens Tips

Size-Wise
Have fun with your kids making this whimsical dessert. Then, use it to help teach them about portion control.
Make Ahead
Prepare cookie logs and spread with the cream cheese mixture as directed. Cover and refrigerate up to 24 hours. Remove from refrigerator about 20 min. before serving, then decorate as directed.

How to Serve
Remove chocolate triangles, then cut dessert vertically in half. Cut each half into eight pieces. Top each piece with 2 chocolate triangles.
You might also want to make a Groundhog Puppet.
Go to Kraft Foods website for more recipes.
Contributor

Kraft Foods
For over two hundred years, many companies have united to make Kraft Foods what it is today. Check out their heritage page and learn the many companies that comprise the Kraft family of foods.