Fingerprint Hanging With Dad Card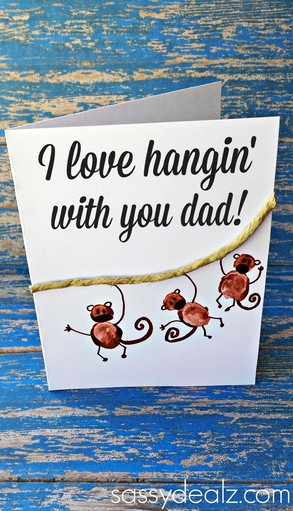 Kids will love making this Fingerprint Hanging With Dad Card for Father's Day and Dad will love being on the receiving end. Kids are always intrigued with the things they can make with a little paint and their fingers.
Supplies
Thin Rope or Twine
Brown Paint
Brown or Black Marker
Glue
White Card Stock or Heavy Paper
Instructions
Cover your work surface with newspaper.
Start by having your kids dip their thumbs into the brown paint and stamping it on the white piece of paper or card stock. After that, have them dip their pointer finger in the paint and press it right above the thumbprint.
Cut a piece of rope/twine and glue it onto the paper just above the monkey bodies. Grab the brown marker and draw the tail, ears, arms, and legs!
Finish the monkeys off by drawing black eyes and a dark brown circle/smile on their face. Write "I love hangin' with you!" at the top of the card :)
Contributor

SassyDealz.com
"Michelle has a teaching degree and for the love of art she started sharing kids crafts on her blog to inspire teachers, parents, and the little ones! SassyDealz.com is not only a craft website, but also a place where you can find online bargains and freebies!"