Recycled Cardboard Kitty Pad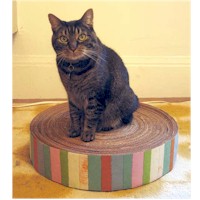 Treat your favorite kitty to a Recycled Cardboard Kitty Pad. Cats love cardboard and it may even encourage it to use it as a scratching pad.
Supplies
Cardboard boxes (all sizes, all kinds, at least 5 medium size boxes)
Masking tape
Exacto blade and ruler
Scrap paper, felt, or fabric
Decorative paper or fabric
Note: Exacto knife should be used by a responsible adult.
Instructions
Choose a height for the pad (mine is 4″)
Measure and cut your cardboard in identical width strips. Cut so that the ridges in the cardboard are going horizontally across the strips.
Start rolling the cardboard in your hands and bending at each corrugation, the cardboard will start to curl naturally.
Tightly wind one strip into a circle and tape closed. This will be the core of your round.
Add a new piece and secure with two pieces of masking tape. Choose which side will be the top and make sure that side is always even. It is less important if the other side is slightly uneven, it will still sit properly and the top will look perfect.
Keep adding! Tape each piece right next to the end of the last piece and keep the coiling tight.
Cut your pretty paper and wrap it around the outside. Tape to close.
Trace onto the scrap fabric or paper and cut out the circle. Tape or glue to the bottom so that if you choose to put catnip in it it won't spill through.
Put on the ground, sprinkle on catnip, and watch as hilarious cat antics ensue.
Contributor

Design Sponge
Design*Sponge is a daily website dedicated to home and product design run by Brooklyn-based writer, Grace Bonney. Launched in August of 2004, Design*Sponge was declared a "Martha Stewart Living for the Millennials" (NY Times, 2008) and features store and product reviews, city, product, and gift guides, diy projects, before & after furniture and home makeovers, home tours, recipes, videos and podcasts, and trend forecasting.