Easy Hat for 18 Inch Doll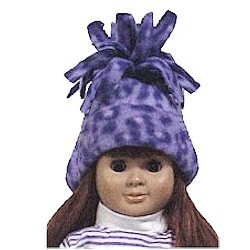 This easy hat for an 18 inch doll is a great project to introduce young people to sewing. It will teach them to measure cut and do a simple stitch.
Supplies
11" x 11" piece of Fleece
Fabric Scissors
Needle and Thread or Sewing Machine
Instructions
Cut fleece to 11" x 10" so it stretches the long way. Save the 1" scrap.
Fold in half with right sides together.
Stitch along the short ends to make a tube that will fit over your doll's head.
Leave the last 2" unstitched. This will become part of your fringe. Cut 2" slits every 1/2" along this end. Turn right-side out.
Gather fringes and tie tightly with scrap piece.
Roll bottom up twice to make band. (see diagram below)
This craft is reprinted courtesy of Terri Bose of MakingFriends.com.
Contributor

Terri Bose of MakingFriends.com
Terri is the creator of makingfriends.com, freekidscrafts.com, scoutswaps.com and badginabag.com. Her work is republished all over the internet and is considered the queen of kids crafts.