DIY Unicorn Skirt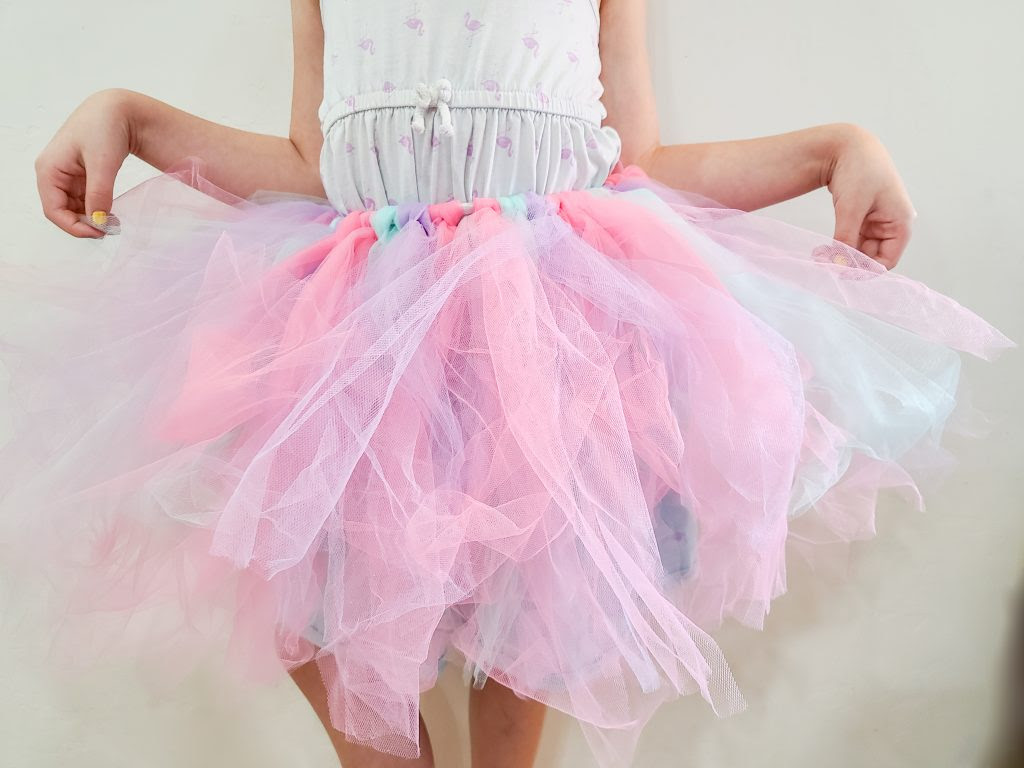 Make this easy Unicorn Skirt and turn the day into a magical adventure for your girls. Or you might want to make a few of them and go to DiY to Donate where you can find a way to help children in shelters or crisis situations to feel better about themselves by making and donating a Unicorn Skirt, or more. There are also directions for making a Unicorn Cape and Headband.
Trivia:
Over time the unicorn was adopted as a symbol of power and royalty, most notably becoming the symbol of the Scottish crown. Source: TIME – A Brief History of the Unicorn.
Supplies
5 yds Tulle in pastel colors of pink, purple, blue, yellow and green (or any combination you like)
Scissors
Elastic
Instructions
Cut a length of elastic that is long enough to go around the waist. Remember it needs to be fairly tight to hold the skirt up.
Measure the length you want for the skirt plus a little more for the loop you will be making.
Cut your tulle in lengths twice the length determined.
Cut your tulle in strips of 4 to 5 inches wide. Exact widths isn't crucial.
Fold the length in half and stick the end with the loop under your elastic. Take the other end and pull it through the loop. Make sure to not pull it too tight. Repeat until you have used up all of the tulle. If you can secure the ends of your elastic with packing tape or some other means it will make it easier to add your strips of tulle.
Place the unicorn skirt around your little girls waist and tie the elastic snug enough to hold the skirt up.
Now turn your magical creature loose with her imagination for hours of play.
Supplies
Instructions
Contributor

Sudbudz
Want to have some creative family time? Print out our SudBudz® Masks and get crafty with the kiddos! More than just a typical Fizzy Bath Ball, SudPrize® is a first ever line of skin-loving and natural bath products that make bath time Fun for Kids and Easy for Moms. A Free companion App, SudBudz® engages your children into an immersive world of special and unique characters called SudBudz®.
Tags no sew projects