Dad's Golf Survival Kit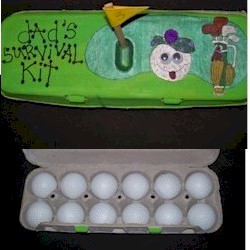 If your Dad is a golfer, he will really love this special kit that allows him to practice even when he can't get out on the course.
Supplies
Pack of 12 plastic practice golf balls
 (or regular golf balls)
1- cardboard egg carton
Paint and markers
1 pom pom
Instructions
Click on Printable for the pattern  for the picture shown here. You can draw any picture you would like.  
First, paint the lid of your egg carton. Use markers and draw a picture on the lid. If you want, write "Dad's Survival Kit" on the top. If using our pattern, color before you cut out and glue onto the top of the lid. Then glue a pom pom on top of the hat when you are done.
Fill the egg cups with the plastic balls. You can even fill 1 or 2 with golf tees or markers.
You could also fill it with his favorite golf balls and if you are really into recycling, go into the woods near a golf course and you will find lots of stray golf balls.
Patterns, Templates and Printables
Click on a pattern to open it in a new window
Contributor

Mary Ruthven
 Mary is one half of a creative team for a site called Crafting Tales. Here you will find craft projects and patterns galore with a large section for Kid's crafts. They also have contests, gift shops and much more. Visit them at www.craftingtales.com