Mini Oreo Inchworm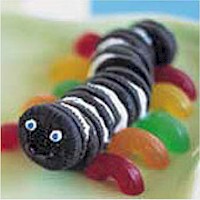 Supplies
9 Mini OREO Bite Size Chocolate Sandwich Cookies,divided
2 Tbsp. ready-to-spread vanilla frosting
5 ring-shaped chewy fruit snacks, halved
Instructions
STACK 8 of the cookies, spreading frosting between cookies to secure. Stand on edge to resemble a worm.
ATTACH remaining cookie to 1 end of the worm with frosting, placing cookie slightly higher than the other cookies to form the "worm\'s head."
ADD 5 of the candy halves to each side of the worm with the remaining frosting for the "legs." Decorate face with frosting, if desired.
Contributor

Kraft Foods
For over two hundred years, many companies have united to make Kraft Foods what it is today. Check out their heritage page and learn the many companies that comprise the Kraft family of foods.
Newsletter
Subscribe to our free newsletter to get creative crafts mailed to your inbox.