Paper Bag People Puppets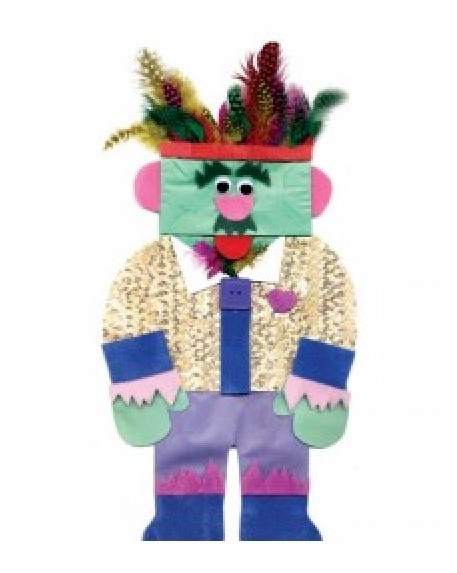 Paper Bag People Puppets are the ideal way to get kids to open up a dialogue about themselves and the world around them. They can make puppets to represent friends and/or threats they feel. The variety of  characters  they create will amaze everyone.
Supplies
Glue or Glue Stick
Scissors
Patterned Paper
Buttons
Regular Chenille Stems - 12" long
Jumbo Chenille Stems - Jumbo
Jumbo Chenille Stems - Sparkle
Craft 100 Felt - 9x12"
Lunch Bags
Wiggle Eyes
Feathers
Instructions
Let your students pick their favorite color of paper bag.
Set out all the "ingredients" onto a table "buffet style" so students can pick and choose (plastic containers and Zip Lock bags make great storage for all these items).
Explain what some of the items can be used for, but tell your students that they can come up with their own ideas. You may be surprised at how unique some of the puppets will be!
Cut out clothes, hair and facial features.
Glue or glue stick the parts onto the paper bags.
Optional Tip 1: When done, have a puppet show, you can even make a theater out of old cardboard boxes.
Optional Tip 2: Tell students to make a "self-portrait" puppet.
Optional Tip 3: Have students make their entire families into paper bag puppets.
Contributor

United Art & Education
United Art & Education offers over 150 Free Project ideas for the art classroom or at home.  Discover a unique selection of products that make learning creative and fun! Choose from teaching resources and decorations, early learning items, and a range of art materials for art educators and students, plus some great gifts.