Girl Scout Promise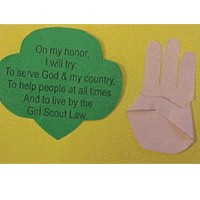 Supplies
Pattern for Girl Scout Promise
Pattern for Hand
Green Paper
Ivory, Brown or Tan Paper
Yellow Card Stock
Glue
Scissors
Instructions
Click on Printables and print Pattern for Girl Scout Promise on Green Paper. Print Pattern for Hand on Ivory, Brown or Tan Paper. Cut them out. Glue onto half a sheet of Card Stock, bending and gluing down the pinky and thumb and you have any easy reference for the Girl Scout Promise.
If you are looking for more scouting crafts you'll find them on MakingFriends.com. Happy Scouting!
This craft is reprinted courtesy of MakingFriends.com.
Contributor

Terri Bose of MakingFriends.com
Terri is the creator of makingfriends.com, freekidscrafts.com, scoutswaps.com and badginabag.com. Her work is republished all over the internet and is considered the queen of kids crafts.
Newsletter
Subscribe to our free newsletter to get creative crafts mailed to your inbox.