Polka Dot Bunny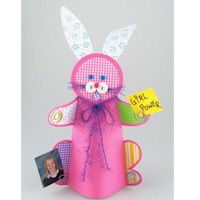 This perky little bunny will make your room smellreally good and look cute too.
Supplies
Renuzit® Adjustable Air Freshener
24"Length purple fibers
12" x 12" sheets scrapbooking paper:
   (Feel Free to make your own designs) or use
   2 sheets Raspberry Small Dot
1 sheet each:
   Spring Green Small Dot
   Purple Gingham
   Denim Splatter
   Raspberry Gingham
   white with blue daisies
   yellow with white stripes
Purple embroidery floss
Brads (decorative paper fasteners):
   Two 1/4" blue and one 1/4" pink
Two 3/4" white buttons
Four pastel-colored spiral wire clips
Craft glue stick*
Press-N-Place Adhesive
Double Stick Clear Dots
Scissor
Straight pin
Pencil
Ruler
Instructions
EARS: Cut four ears, using three different papers, according to pattern. Using craft stick glue, glue papers together (with printed sides out) to form two ears. Let dry.
TOPPER: Cut two bunny body pieces from raspberry small dot papers according to pattern. Referring to photo, glue ears to back side of one body piece on head. Referring to pattern, align body pieces and fold arms and legs forward on dashed lines. Place glue on back of body pieces on arms and legs up to folded lines and on head up to neckline. Be sure to leave the body open so that it can be placed over the Renuzit® Air Freshener. Press pieces together sandwiching ears between front and back body pieces. When dry, curl one ear slightly forward over a pencil.
FACE: From raspberry gingham cut a 2 3/4" diameter circle. Referring to photo, make a pin hole in paper for each eye. Insert and attach blue brads at pin holes. Cut a 4" length of floss. Thread floss through two holes of button with ends of floss at back of button. (Note: If button has four holes, thread another piece of floss through remaining holes.) Similarly thread floss through remaining button. Use double stick clear dots to attach buttons for jowls, with floss ends extending outward like whiskers. Separate floss threads on each side of glued area. Make a pin hole between buttons for nose, insert and attach pink brad. Cut tongue from desired paper according to pattern. Glue point of tongue under nose. Centering face on head, glue to front of bunny.
ARMS AND LEGS: Cut one arm and one leg from various papers according to patterns. Flip patterns over and cut another arm and leg. (This way you will have a right and left arm and leg.) Referring to photo, glue to front of bunny.
Using Press-N-Place Adhesive, place a spiral clip on adhesive and press firmly along outer circle only of clip. Peel clip from sheet and remove any adhesive from center of spiral. (Note: Center of spiral must remain unattached in order to insert notes or photos.) Attach clips to arms and legs.
FIBER: Wrap fiber around neck and tie into a bow.
OPTIONAL: Cut a tummy piece from desired paper according to pattern. The tummy piece can be used as a mat for poems or a photo (school photo, friends' photo, or favorite photo of Spring or Easter egg hunt). Glue to front of bunny as desired.
This craft reprinted courtesy of Renuzit.
Patterns, Templates and Printables
Click on a pattern to open it in a new window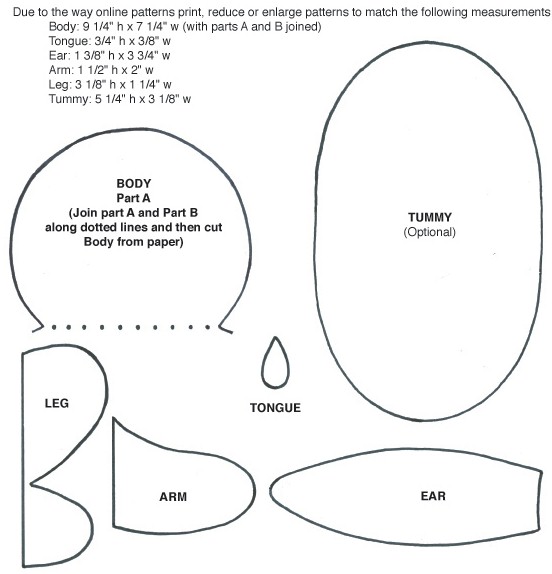 Contributor

Renuzit