Boondoggled Pet Toy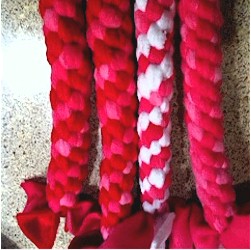 Print This Craft
Did you ever Boondoggle? Well here is an opportunity to learn with this latest winning craft contribution from Emily of Wasalia, Alaska who likes to craft. It a toy for your dog who will really enjoy playing fetch or tug of war with you.
Supplies
Two strips of fleece.
Scissors
Instructions
Cut two pieces of fleece. Tie in a knot. Make a box stitch (see diagrams below)
Fold strand 2 diagonally across the box stitch between strands 1 & 4 leaving a small loop; (fig. B). Fold strand 4 diagonally across box stitch between strands 2 & 3 leaving a small loop. Hold strands in place with one hand.
With your other hand, weave strand 1 diagonally across the box stitch over strand 2 and under strand 4. Weave strand 3 diagonally across the box stitch over strand 4 and under strand 2; (fig. C). Pull tightly, stretching the cord slightly to secure.
Continue until you have the size toy you want for your dog.  Tie off securely and trim.
Have lots of fun playing with your dog.
Contributor

FreeKidsCrafts Contest Winner
IT'S A WINNER! Take a look at what one of our talented viewers submitted to share with you. This craft was selected as one of this month's winners to received $50 in craft supplies. Click here to find out how you can enter your original creation for our judges consideration.