Unicorn Horn Pens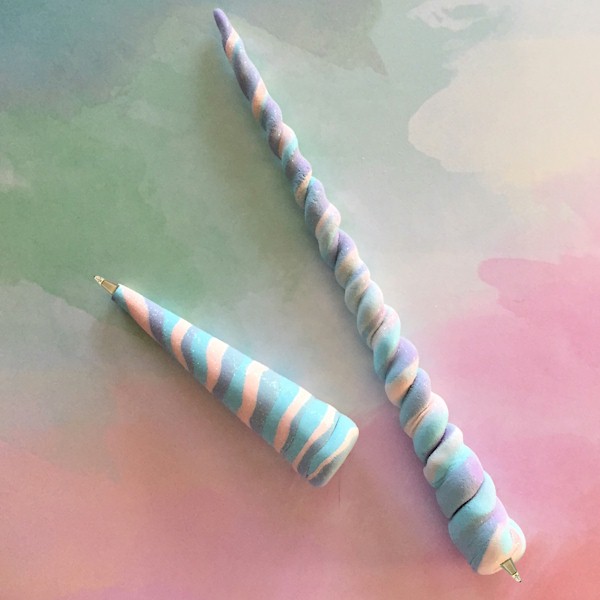 When you say unicorn, there is magic in the air. These Unicorn Horn Pens will be the hit of the classroom when school begins. In the meantime try writing some stories inspired by your special pens over the summer. If you buy the model magic you might want to try some other projects at the same time like our Poop Pencil Toppers.
You might want to share your love of unicorns by making these unicorn accessories Unicorn Headband and Unicorn Superhero Cape at DIY to Donate to make some other little girls happy.
Here are some books about Unicorns you might like to read:
Trivia:
Did you know that since 1971 you can get a permit to hunt unicorns from Lake Superior State University in Sault Ste. Marie, Michigan. We suggest you bring a strong imagination with you on the quest. Source: Mental Floss – 10 Magical Facts About Unicorns
Supplies
Slime Coloring (this tends become lighter when it dries)*
Ball Point Pens
Latex or rubber gloves
*"We are a participant in the Amazon Services LLC Associates Program, an affiliate advertising program designed to provide a means for us to earn fees by linking to Amazon.com and affiliated sites."
Instructions
Create three small mounds of white model magic. Put on your latex or rubber gloves and mix a different unicorn color in each mound. Roll out each color into 1/4″ x 12″ tubes.
To make the shorter horn: Twist around a ball point pen ink cartridge. you can remove the cartridge by pulling on the tip with pliers. Roll into the shape by applying more pressure to the pointed end gradually less pressure to the wider end. Let dry.
To make the longer horn:Lay side by side and flatten together. twist  flattened piece around an ink cartridge shaping into a horn shape by gradually pulling thinner as you twist.
Tip: If the dye gets on your hands, a vinegar and salt scrub will get a lot of it off but we suggest rubber gloves when using concentrated coloring.

Supplies
Instructions
Contributor

Sudbudz
Want to have some creative family time? Print out our SudBudz® Masks and get crafty with the kiddos! More than just a typical Fizzy Bath Ball, SudPrize® is a first ever line of skin-loving and natural bath products that make bath time Fun for Kids and Easy for Moms. A Free companion App, SudBudz® engages your children into an immersive world of special and unique characters called SudBudz®.