Thanksgiving Paper Quilt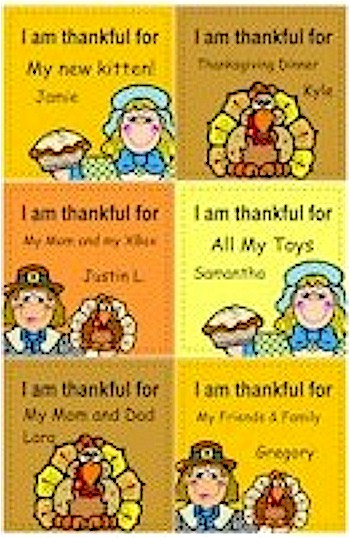 This Thanksgiving Paper Quilt demonstrates some of the things we have to be thankful for on Thanksgiving. Everybody has something special to be thankful for.  Let each child print their name and their own reason to be thankful and piece them all together to make their own beautiful Thanksgiving Paper Quilt.
Trivia:
Supplies
Autumn Colored Card Stock
Scissors
Turkey Printable
Girl Printable
Boy Printable
arkers or Crayons
Instructions
Click on the images below and print the turkey, boy and girl printables on autumn colored card stock.
Have each child fill out what they are thankful for and color the picture.
Cut on solid line
Piece them together to make a paper quilt of thankfulness.
Patterns, Templates and Printables
Click on a pattern to open it in a new window to print

Supplies
Instructions
Patterns, Templates and Printables
Click on a pattern to open it in a new window
Tags easy kids crafts