Preschool Emotions Activity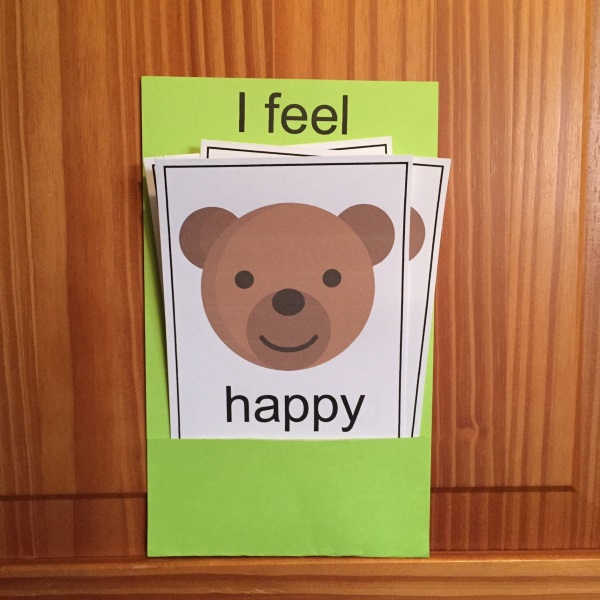 It isn't always easy for preschoolers to talk about their emotions so they tend to act out instead. This Preschool Emotions Activity gives you as a parent or teacher the opportunity to let children tell you how they are feeling in pictures. The faces shown below will make it easy for you to understand the emotions individual children are feeling during conflicts and trauma.
Trivia:
Children aged 2 to 5 are very susceptible to traumatic events and they struggle to communicate their fears or thoughts, thus they are more apt to act out. Source: Better Health Channel, Victoria, Australia – Trauma and Children-Two to Five Years
Supplies
White Paper
White Card Stock
Colored Card Stock
Glue
Color Printer
Instructions
Print the "I feel" pattern on the colored card stock.
Cut on the solid lines and fold up on the dotted line and glue the edges, creating a pocket
Print the faces below on white card stock. Cut on the solid lines.
Stack the cards in the holder and when an event arises that evokes an emotion, as the child to select the card that best explains how they feel. Once selected, try to get the child to talk about why they feel that way and thus be able to assist them in dealing with the situation.
Click on a pattern to open it in a new window to print
Supplies
Instructions
Contributor

Sudbudz
Want to have some creative family time? Print out our SudBudz® Masks and get crafty with the kiddos! More than just a typical Fizzy Bath Ball, SudPrize® is a first ever line of skin-loving and natural bath products that make bath time Fun for Kids and Easy for Moms. A Free companion App, SudBudz® engages your children into an immersive world of special and unique characters called SudBudz®.
Tags preschool crafts