Pop Up Eagle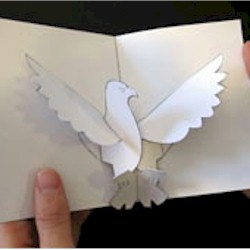 January 10th is Save the Eagles Day. Make your own special Pop Up Eagle to commemorate the day.
Supplies
White Paper
Sharp Scissors
Instructions
Click on Printables and print out the Patterns and the illustrated instructions. Careful cutting and pasting will yield a delightful eagle ready to take flight.
If you have younger crafters they might like to try the Hand and Footprint Eagle or the Eagle Treasure Bucket.
This craft is reprinted courtesy of Robert Sabuda.
Patterns, Templates and Printables
Click on a pattern to open it in a new window