Candy Cane Reindeer Card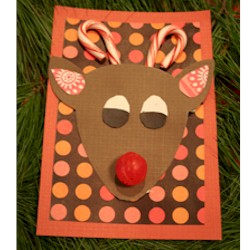 Kids will enjoy making this Reindeer card for friends and family. Make sure you have extra candy canes on hand because some of them are sure to get eaten.
Supplies
Solid cardstock in red, brown and white (8 x 11 inches)
Striped or holiday-themed scrapbook paper (complementary color to cardstock)
Scissors
Tape
Glue stick
2 mini candy canes
1 Cherry Dum Dum Pop
Black marker or colored pencil
Hot glue gun
Hot glue gun stick
Instructions
1. Choose the color theme for your card. We chose traditional reds for the season, along with funky prints for a fun pop of color.
2. Fold your card stock in half (wide-ways) to make a card. Make sure you have a flat crease, that way the card stays shut.
3. Cut the printed paper so that it is half an inch less in length and width than the front of your cardstock. Apply the glue stick to the back of the printed paper and place onto the card stock. This will be the background to your reindeer.
4. Next, take the brown card stock and cut out a reindeer. (You can vary shapes for these cards depending on your favorites.)
5. The next step is cutting out the reindeer's ears and eyes. You will cut out ovals for the eyes using white cardstock and use a marker to color the pupils pointing in the direction of your choice. The tear drop shaped ears can be made of printed paper or solid cardstock. Use the glue adhere the ears and eyes in the correct area.
6. Add the reindeer's antlers (mini candy canes), canes facing out, onto the back of the reindeer's head. Attach the two mini candy canes using tape.
7. Next, add two drops of hot glue to the candy cane sides that will touch the card. Glue the entire reindeer head to the patterned paper in the middle.
8. The next step that makes this handmade Christmas card stand out is using a red Dum Dum Pop for the nose. You will need to cut the stick off of the lollipop and use a hot glue gun to apply to the reindeer's nose. Hold in place for 15 seconds to assure the nose doesn't roll off. (If you want the nose to be a little smaller, you can break the lollipop into two and glue the flat part down.)
9. Allow all glue to set and dry completely before writing on the inside. Give this card in person or mail in a padded enveloped with "please hand stamp" on the outside to keep the candy canes from breaking.
Another great variation of this Christmas card idea is to use it as a place holder for dinner guest and party attendees. Take a 3"x1" piece of paper matching your card and write the name of your guest, then place that piece of paper behind the mini candy canes. These can sit up against a glass or be set on a dinner plate for a festive jolt of fun to any place setting!
This craft is reprinted courtesy of Spangler Candy.
Contributor

Spangler Candy
Spangler Candy, located in Bryan Ohio,  has been making candy since 1906 and has recently started making crafts and recipes to share with all lovers of candy canes, Dum Dum Pops and other candy favorites. You can learn more about Spangler at http://www.spanglercandy.com.