Pinecone Mouse Ornament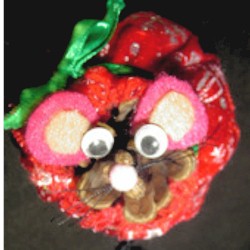 Get the kids in the holiday spirit and outside to collect pine cones for this adorable little mouse.
Supplies
Holiday material
Small pinecone
2 small wiggle eyes
1 mini pom pom
Black ribbon
Tiny bit of felt
Tiny bit of stuffing
Bell (optional)
Instructions
Cut a circle from your material large enough that when gathered, will cover most of the pinecone. You just want the tip to show so it looks like the mouse is peeking out from the cover.
Make a running stitch all along the outer edge of the circle, about 1/4" in.
Place a small amount of stuffing in the center of circle and place the pinecone on top of this. If your material is thin, you may want to lay some stuffing around the pinecone also.
Gather your running stitch by pulling gently on the threads until the circle gathers around the pinecone. Be sure enough of the cone is showing to make his face. Make a few stitches to secure material closed.
Cut a length of ribbon to tie around the gather and into a bow at the top. Tack down with a few stitches to secure in place. Take another piece of ribbon and knot in to a loop for a hanger. Stitch on the top to the material.
Cut 2 small ears from pink felt and 2 smaller ones from tan felt.
Glue tips of ears behind a scale on both sides of face.
Glue tan insert ears on top of each pink one.
Glue eyes on.
Knot a few black threads in center and place on cone where nose will go with a small dab of glue. Glue nose on top of whiskers.
 
Take 3 long pieces of black ribbon and knot together at one end. Sew on to mouse. Place mouse between your knees and braid the ribbon. Knot again at end and sew a bell on. Hang and enjoy!
Contributor

Mary Ruthven
 Mary is one half of a creative team for a site called Crafting Tales. Here you will find craft projects and patterns galore with a large section for Kid's crafts. They also have contests, gift shops and much more. Visit them at www.craftingtales.com