Angel Garland
Print This Craft
Make a chain of angels to wrap around your Christmas tree or use to decorate your packages. A single one also makes a great gift card.
Supplies
Whte Cardstock (optional)
White paper
Scissors
Tape
Instructions
Click on Printables and print out the Angel Template. It's helpful to have the template on heavier paper since you will be tracing around it.
On an 8 1/2 by 11 sheet of paper lying lengthwise on your work surface, draw a horizontal line four inches from the bottom, 10 1/2 inches in length. Divide the space into three sections each 3 1/2 inches wide. Cut along the outside lines. You are now looking at a piece of paper 4 inches wide and 10 1/2 inches long divided into three equal sections. Fold along the lines dividing the three sections, making nice, strong folds. Accordion fold the strip i.e backward and forward making a fat square. It is not necessary to be exact, what is important is having the angel wings up against the fold so they connect. Place the bottom of the template along the bottom of the square and draw around it lightly with pencil. Remove the template. You're now ready to cut her out. Don't cut where the wings are on the fold, this is what holds them all together. You should have three angels joined at their wings and paper left over to make three more. If you want a long chain join a group of threesomes to each other with transparent tape on the back.
This craft is reprinted courtesy of Kabubble.com.
Patterns, Templates and Printables
Click on a pattern to open it in a new window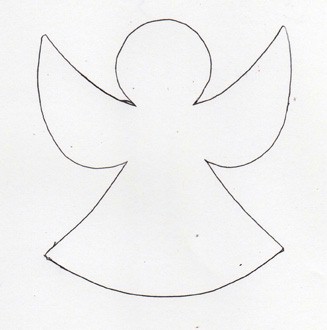 Contributor

Kabubble
With ten years of "Grand" parenting behind the team at Kabubble they've come up with lots of ideas on how to have lots of fun along the way and they have created treasured memories. This site shares those ideas with all grandparents and parents.