Australian Bolo Tie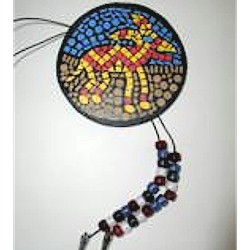 Punched paper dots are the paint for this original bolo tie. Learn some of the Aboriginal symbols such as concentric circles for campsites or waterholes: straight lines for routes between places: wavy lines for rain or water; "U" shapes for sitting people, and tracks for animal footprints. Also, animals are shown from above, plants are stylized and dotted backgrounds are traditional.
Supplies
Rexlace® plastic lacing
Construction paper – black and assorted colors
Foam sheet – black
Pony beads – assorted colors
Elmer's® Repositionable Glue Stick
Elmer's® Galactic Glue Blue
Scissors
Hole Punch
Brush
Metal Tips (optional)
Instructions
1. Cut a 4" circle from black construction paper using a pattern or compass.

2.  Use the punch and scissors to make lots of colored shapes from the colored construction papers.

3.  Apply glue to small areas of the paper circle then carefully apply the punched paper shapes to make the mosaic. Start your mosaic with four yellow ovals to make the dog's feet, then work up the legs then the body and head. Fill in the ground and sky last.

4.  Optional: when your mosaic is complete and the glue has dried, glue the paper circle to the foam circle. Weight with a couple of books until it dries. Brush a coating of Galactic Glue over the finished mosaic to make it a coaster with a sparkling finish.

5.  For Bolo Tie: Glue the bolo slide to the back of the circle then thread the plastic lacing through the slide.

6.  Slide an equal number of beads onto the ends of the plastic lacing then knot the ends. Add metal tips over the knots at the end of the lacing.
You might also enjoy Kangaroo Dot Painting.
This craft is designed by Cindy Gorder and is reprinted courtesy of Hands On Crafts For Kids.
Patterns, Templates and Printables
Click on a pattern to open it in a new window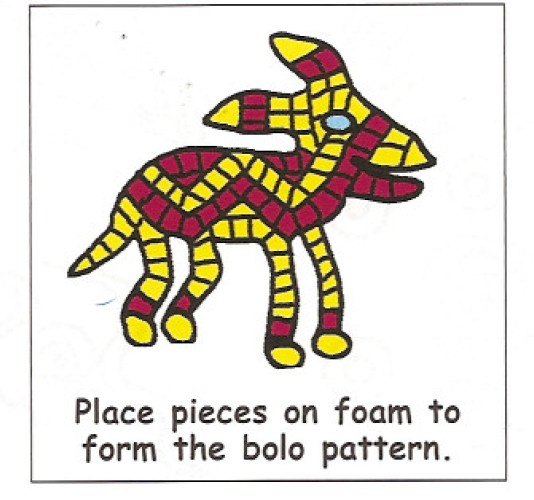 Contributor

Sudbudz
Want to have some creative family time? Print out our SudBudz® Masks and get crafty with the kiddos! More than just a typical Fizzy Bath Ball, SudPrize® is a first ever line of skin-loving and natural bath products that make bath time Fun for Kids and Easy for Moms. A Free companion App, SudBudz® engages your children into an immersive world of special and unique characters called SudBudz®.