Leprechaun Trap Craft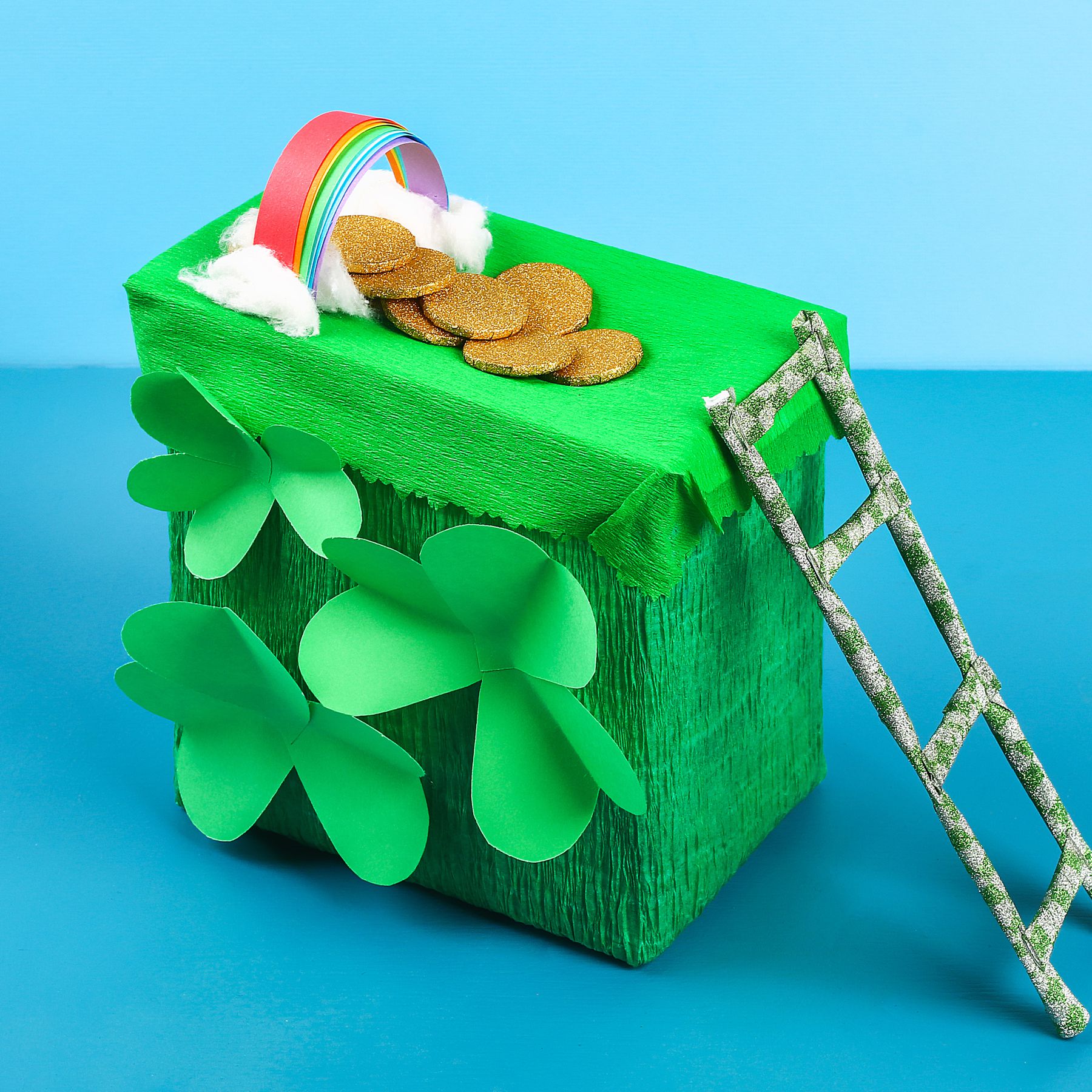 If your kids are exploring STEAM projects, engineering a Leprechaun Trap is both fun and educational. Encourage them to put on their thinking caps and create their own "trap". The following craft is how we set up ours.
It is said that on St Patrick's Day eve, leprechauns are in search of the pot of gold coins left by fairies at the end of the rainbow. Kids have been trying to capture leprechauns for many years so that they can barter his freedom for his gold coins, candy or other treasures he may have; including the granting of wishes. Kids will have a great time building this leprechaun trap and looking for the loot left behind by the little green elf.
Trivia:
Leprechauns are a type of fairy, though it's important to note that the fairies of Irish folklore were not cute Disneyfied pixies; they could be lustful, nasty, capricious creatures whose magic might delight you one day and kill you the next if you displeased them. Source: Live Science – Leprechauns: Facts About the Irish Trickster Fairy
Supplies
Small Box
Construction Paper: Rainbow Colors
Green Craft Foam
Green Crepe Paper
Cotton Balls
Straws
Gold Coins
Glue or Glue Stick
Sharp Knife or Exacto Knife
Stapler
Editor's Note: These items can often be found at the Dollar Store
Instructions
Using the picture as a reference, glue craft foam over the top of a small box so that it looks like a lid.
With a sharp knife or exacto knife to cut slits in the foam creating the "trap"*
 Wrap the rest of the box in crepe paper
To make the ladder, use the picture as a reference and cut two long straws and several short ones of equal length and glue them as shown.
To make the rainbow, cut one inch strips of construction paper in rainbow colors and cut them to the size appropriate for your box. Make sure each color shows to create your rainbow and staple at both ends
Glue to the top of the box and puff out some cotton balls to represent clouds at both ends
Cut hearts out of green construction paper and glue to the box to create shamrocks. It will take three hearts for each shamrock.
Lean your ladder up against the box and lay a few coins on the top to attract a leprechaun.
Put the box out on the eve of March 16th and see if you can catch a leprechaun
*This should be done by an responsible adult
Patterns
Click on a pattern to open it in a new window to print in the correct size

Supplies
Instructions
Contributor

Sudbudz
Want to have some creative family time? Print out our SudBudz® Masks and get crafty with the kiddos! More than just a typical Fizzy Bath Ball, SudPrize® is a first ever line of skin-loving and natural bath products that make bath time Fun for Kids and Easy for Moms. A Free companion App, SudBudz® engages your children into an immersive world of special and unique characters called SudBudz®.
Tags leprechaun crafts