Hedgehog Nature Craft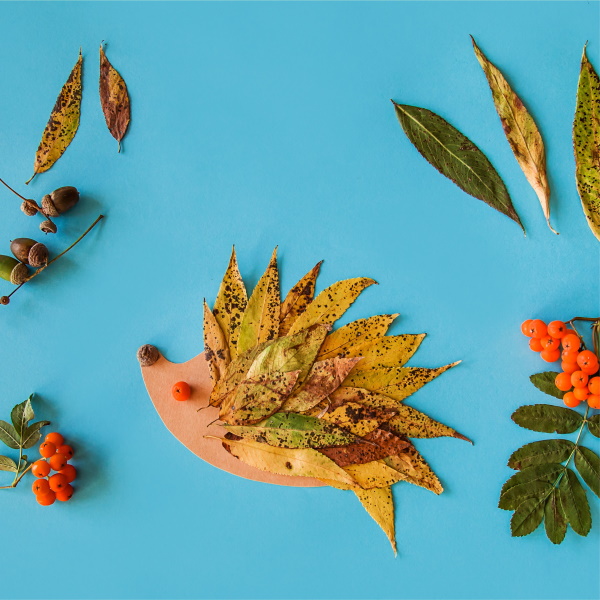 When you have the kids out on a nature walk have them collect leaves, berries and tiny acorns to create a hedgehog. Look at the different shapes of leaves and encourage them to select the ones that you see on our hedgehog so it represents the quills. Mother Nature created wonderful shapes for us to use as great craft materials.
Trivia
During the autumn, deciduous trees change color and then lose their leaves. This is in preparation for the winter season. Because it gets so cold, the trees have adapted to the winter by going into a period of dormancy or sleep. Source: Just Fun Facts- Interesting facts about leaves.
Supplies
Leaves gathered on nature walk
Printed hedgehog body below
Red/orange berry
Tiny Acorn Cap
Materials
Print out as many hedgehog bodies as you need for the children.
Have the kids sort the leaves so they use those that are appropriate for the craft. Make sure they are dry so they can be glued.
Glue the leaves to the hedgehog body, using the picture as a guide.
Glue a berry for the eye.
Glue an acorn cap for the nose
Patterns, Templates and Printables
Click on a pattern to open it in a new window to print in the correct size

Supplies
Instructions
Contributor

Sudbudz
Want to have some creative family time? Print out our SudBudz® Masks and get crafty with the kiddos! More than just a typical Fizzy Bath Ball, SudPrize® is a first ever line of skin-loving and natural bath products that make bath time Fun for Kids and Easy for Moms. A Free companion App, SudBudz® engages your children into an immersive world of special and unique characters called SudBudz®.
Tags leaf crafts