Friends Around The World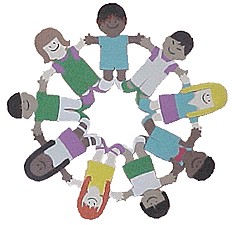 This Friends Around The World craft is a great project for Martin Luther King Day. It encourages kids to appreciate the differences that make up the Earth's population.
Supplies
Nine Playtime Paper Dolls
Clothes for Playtime Paper Dolls
Paper in Assorted Colors
Glue Stick
Black Marker
Instructions
Print Nine Playtime Paper Dolls on a variety of skin tone card stock. Remember skin tone has a lot of different colors. We've also provided black and white.
Print clothes and hair for nine Playtime Paper Dolls. Cut out pieces and glue them to Playtime Paper Dolls.
Arrange and glue in a circle with hands and feet meeting as shown in photo above.
*Note: Pattern provided for clothes is sized to print with Internet Explorer. The actual size will vary according to your browser.
Contributor

Terri Bose of MakingFriends.com
Terri is the creator of makingfriends.com, freekidscrafts.com, scoutswaps.com and badginabag.com. Her work is republished all over the internet and is considered the queen of kids crafts.