Duck and Rabbit Puppets For Beginning Writers
Chinese New Year Crafts, Craft Sticks, Early Elementary Craft, Farm Animal Crafts, librarians, More Printables, More School Crafts, parents, PreSchool Crafts, Puppet Crafts, teachers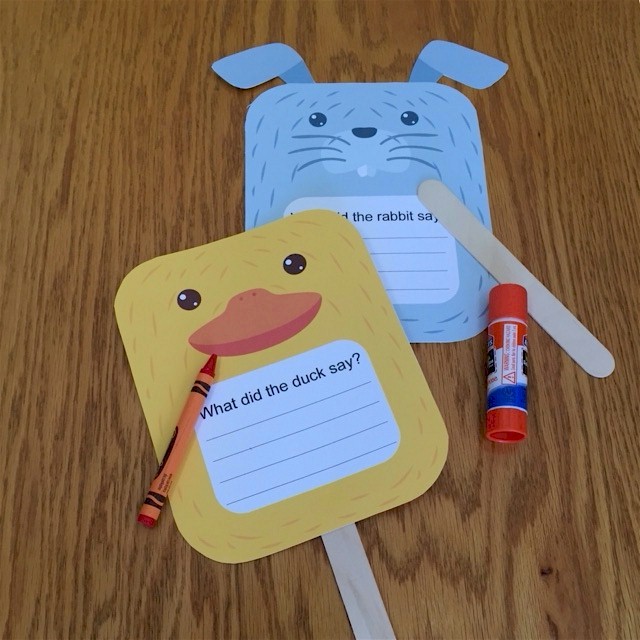 Kids are proud of their ability to communicate with their writing skills. These Duck and Rabbit Puppets for Beginning Writers provide an opportunity to use these skills along with their imagination to pretend their puppets are having a conversation. You may be surprised to see what they have to say! This project can be used in a classroom setting or for a single child who makes both puppets and creates a dialogue between them.
If you are looking for more puppet ideas check out the Puppets section for hand puppets, finger puppets and much more.
Trivia:
A system of graphic marks was invented independently in the Near East, China and Mesoamerica and are believed to be the earliest form of writing. Source: The Evolution of Writing by Denise Schmandt-Bessera
Supplies
White Card Stock or Heavy Paper
Scissors
Glue Stick
Craft Sticks
Crayons, Markers or Pencils
Instructions
Print out enough ducks and rabbits for each child. We've provided them in both color and black and white for you.
Cut out the puppets.
Have the kids decide what they would like their puppet to say e.g I want a carrot or My name is Ducky.  Wait to see what kind of phrases they might pick before giving them suggestions. It might be wise to have them write out their sayings on a scrap piece of paper first.
Once they have written their sayings on the puppet, glue it to the craft stick and have them pick another puppet to talk to.
I'm sure they will proudly show their friends and family their handiwork. Learning can be so much fun.
Patterns, Templates and Printables
Click on a pattern to open it in a new window to print
Supplies
Instructions
Contributor

Sudbudz
Want to have some creative family time? Print out our SudBudz® Masks and get crafty with the kiddos! More than just a typical Fizzy Bath Ball, SudPrize® is a first ever line of skin-loving and natural bath products that make bath time Fun for Kids and Easy for Moms. A Free companion App, SudBudz® engages your children into an immersive world of special and unique characters called SudBudz®.